Smartphones with great cameras are no longer a dream. Google did it, Huawei nailed it and many other brands took the competition to a whole new level. But one brand that hasn't stepped in with its best product yet is Nokia, which has mainly focused on budget and mid-range premium category. Not for long.
Nokia 9 has done its fair share of rounds in the rumour mill and we are starting to learn more about the upcoming flagship. After a recently leaked image showing a Nokia-branded smartphone with a penta-camera setup, there's a better quality image that gives a clearer look at what Nokia and HMD Global might have in store for us.
Dual cameras in a smartphone are pretty common in the market and Huawei levelled up with three cameras in the P20 Pro. If the fresh set of rumours hold any water, Nokia could become the world's first brand to offer five cameras that collectively work in a mysterious fashion to deliver the best results.
The unbelievable camera setup shown in the leaked photo of the alleged Nokia 9 shows an odd sensor arrangement. There are a total of seven cut-outs at the back forming a perfect hexagon and five of those are clearly for camera sensors. While one of the cut-outs towards the top left edge looks like a Xenon flash and a mysterious sensor sits towards the right edge.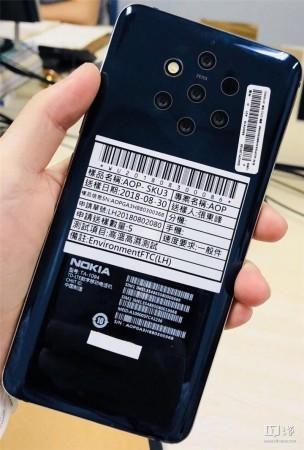 In line with what was leaked previously, the new hands-on image shows no sign of a fingerprint scanner at the back. This only means Nokia 9 could sport in-display fingerprint scanner or advanced 3D face unlocking technology like we've seen in the iPhone X and Oppo Find X.
There are a lot of missing pieces to the puzzles and the latest leaks are nowhere in sync with what was reported earlier. Nokia 9 was rumoured to come with three cameras at the back, combining 41-megapixel, 20-megapixel, and 9.7-megapixel sensors with 4X optical zoom and Xenon LED flash.
But the biggest question is adding sensors to improve the quality of photographs shot on phone is the best solution? Google set a clear example with its Pixel 2-series that dual cameras or even three cameras are not necessary to achieve absolutely charming results. It's best to reserve verdicts until we actually see Nokia pull this off.
There's little doubt that Nokia 9 will be the company's first legit flagship with top-of-the-line features. It is expected to come with a 6.01-inch display with Gorilla Glass 5, Snapdragon 845 chipset, 256GB RAM, a 3,900mAh battery with wireless charging support and Android 9 out-of-the-box.
Even with so many rumours about the phone itself, Nokia 9's release date has been a big mystery. After skipping IFA 2018 debut, it is now expected that the flagship will come later this year or early-2019. Stay tuned for updates.