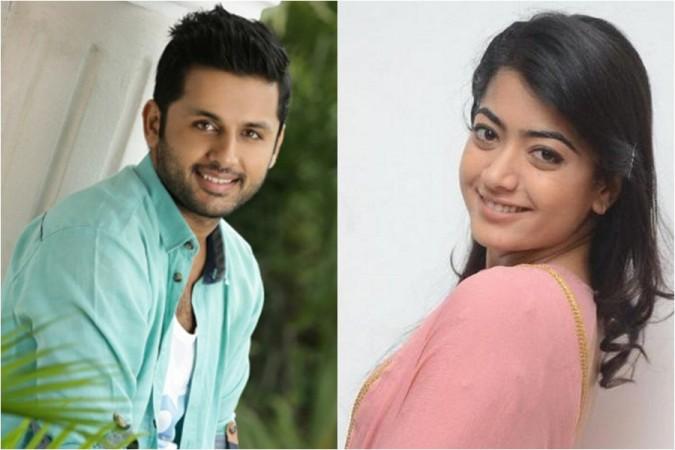 Actor Nithiin (Nithin/Nitin) has recovered from his shoulder injury and started workouts to get in to shape for his upcoming movie titled Bheeshma, which features Rashmika Mandanna in the female lead.
It is known that Nithiin has gone on to join hands with director Venky Kudumula of Chalo fame for his next film after the release of Chal Mohana Ranga. The makers of Bheeshma announced that they have roped in Rashmika Mandanna to play the female lead opposite Nithiin. In September, they announced that its shoot would begin soon, but they are yet to kick-start it even after two months.
Many fans of Nithiin were excited to know about the shooting and other cast and crew details of Bheeshma. Director Venky Kudumula finally took to his Twitter account to give the latest update on this project. He said that its pre-production activities are in the last leg and he would start shooting it soon.
Venky Kudumula tweeted, "For the people who were asking about #Bheeshma Script is at final stage, @actor_nithiin anna just recovering from his shoulder injury n started workout to give his best look and madam @iamRashmika is asusual busy with shoots..!! We are coming in our best possible way soon."
Nithiin had suffered a tear in his shoulder during the shooting of a song from Chal Mohan Ranga earlier this year. Rashmika Mandanna retweeted Venky Kudumula and wrote, "I am so so soooo excited.♥️♥️ @actor_nithiin omg!! I didn't know sir..are you ok now?i hope you are feeling better.. @VenkyKudumula I am so excited let's kill it!!"
In reply to Rashmika Mandanna, Nithiin said that he has recovered from the injury and he is all excited to start shooting for Bheeshma. The actor tweeted, "Hey @iamRashmika i m much better now..cant wait to start our shoot..see u soon on sets..n @VenkyKudumula shoot eppudu start."