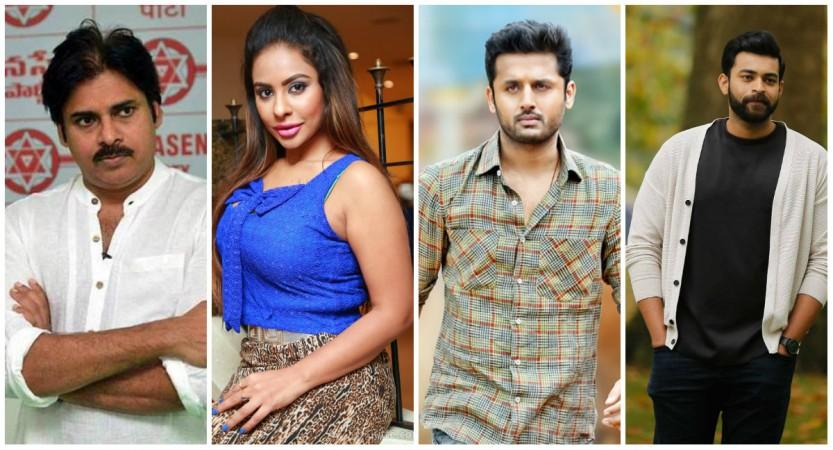 Telugu actors Nithiin and Varun Tej and writer Kona Venkat have taken an indirect dig at actress Sri Reddy for abusing power star Pawan Kalyan and showing her middle finger to him.
Sri Reddy continued her protest against casting couch in Tollywood and 15 other artistes joined her on Monday.
Sri Reddy's gesture sent shock waves across the Telugu states. Many fans of Pawan Kalyan were furious and condemned her words. But no celebs responded to her comments. People who follow Telugu film industry closely were shellshocked at their silence and requested them to support the power star.
Suresh Kondi, a film journalist from the Telugu states, demanded serious action against Sri Reddy. He tweeted, "#SriReddy issue getting worse day by day..Today her comments on #Pawankalyan are so cheap & shame..ఇంత ధైర్యం ఎక్కడిది? Someone should take serious action against her. Wake up All Fans & industry biggies వీళ్లా తెలుగు వాళ్లకు ఛాన్సులు ఇవ్వమని డిమాండ్ చేసేది.?#Shame #ఛీరెడ్డి"
Idlebrain Jeevi, another noted journalist who covers Tollywood, asked the people who used his name for their benefits, to support him. He tweeted, "The actors, directors and producers who use Pawan kalyan references in their films to market their films are keeping mum when somebody does false accusations on Pawan kalyan. They just want the support of Pawan kalyan and his films. They don't support Pawan kalyan?"
Nithiin is a huge fan of power star Pawan Kalyan and he has often taken his references in his movies. In fact, he played the hero in the power star's recent production Chal Mohana Ranga. He took to Twitter to warn Sri Reddy indirectly. The actor tweeted, "For every action, there is an equal and opposite reaction...just wait for it....its coming!!!"
For every action there is an equal and opposite reaction...just wait for it....its coming!!!

— nithiin (@actor_nithiin) April 17, 2018
Varun Tej tweeted a poster, which seemed like an indirect dig at Sri Reddy. The statement on the poster read, "Don't bother with hypocrites or judgemental people who criticise you and put you down. They are too shallow to recognise their own weaknesses. It's easier for them to try to make others feel bad than to look in the mirror at their own pathetic behaviour."
Noted scriptwriter Kona Venkat, who was also alleged of of sexual exploitation by Sri Reddy, requested her not to attack personally. He did not mention the name of anyone. He tweeted, "My soul is hurt ..... but no words, no negative campaigns, no personal attacks and nobody can touch my soul mate !!! He's on a bigger mission ✊"