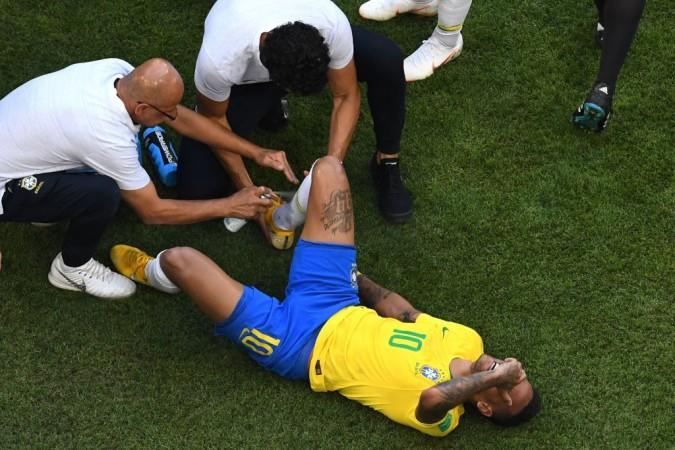 Neymar found the back of the net and set up Roberto Firmino's late goal in Brazil's 2-0 win over Mexico in Monday's Round of 16 tie but his theatrics, which has been a regular feature in the ongoing Fifa World Cup, became the biggest talking point.
The Paris Saint-Germain superstar once again became the butt of jokes on social media when he seemingly overreacted when Mexico's Miguel Layun stepped on his ankle in the second half.
Neymar was rolling all over the turf at the Samara Arena even as suffered a series of fouls on Monday.
Neymar seemingly overreacts, Layun escapes yellow card
The awkward moment from Neymar came in the 71st minute when went down by the touchline when the ball was out of play and between his stretched legs. Out of the blue, the former Barcelona forward held his legs and rolled on the grass wincing in pain even as Mexico were trailing 1-0.
Replays showed Layun had sneakily caught Neymar while he was on his way to recovering the ball for a throw-in. The Brazilian's reaction seemed to be over the top and drew immediate reaction from the football fraternity.
The referee refused to buy into Neymar's exaggerated reaction and it, in a way, helped Layun escape a yellow card, let alone a sending-off. Medical attention was needed but the Brazil hero carried on without showing any signs of pain.
Earlier in the half, Layun, seemingly irked by yet another Neymar fall along the touchline, lifted him from the ground abruptly.
This is not the first time Neymar has overreacted to a foul as his extended roll during Brazi's 2-0 win over Serbia last week gave rise to hilarious memes on social media.
Nonetheless, Neymar, the danger man of Brazil, has suffered the most fouls (23) at the World Cup in Russia.
IBTimes, India has compiled a list of reactions to Neymar's histrionics on Monday. Check them out below.