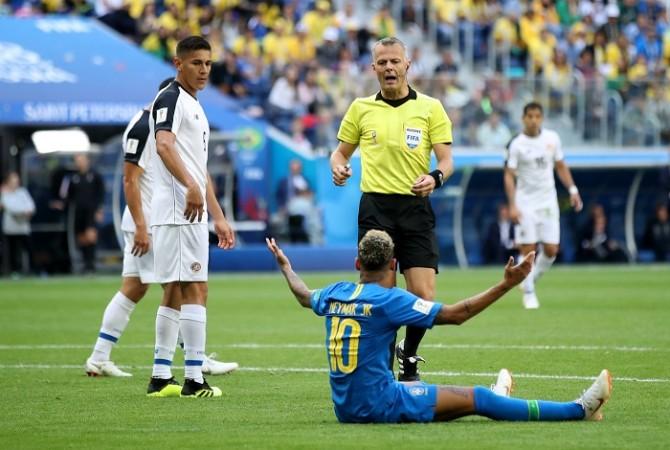 Maybe, he has been reading the papers, and for nearly 80 minutes he seemed more concerned with actually playing football. Then came that Neymar moment.
With Brazil desperate for a goal, despite dominating Costa Rica, Neymar, at the slightest, and it really was the slightest, of touches, decided to bring out his acting skills into play again, falling down in stages, with the referee Bjorn Kuipers, enamoured by that bit of skill from the Brazilian, initially deciding to give a penalty.
The beauty about VAR, though, is that such decisions can be overturned. And after hearing on the radio to take a look, Kuipers went to the sideline to do just that and to nobody's surprise overturned his own decision, deciding instead to give Costa Rica a free-kick for a dive.
Neymar avoided a yellow card, and it looked like Brazil would be frustrated by Costa Rica.
Step up Philippe Coutinho, who doesn't do the theatrics and just gets on with the game. In he popped up at the right place in the 90th minute, latching onto a heavy touch from his teammate Gabriel Jesus to score his second goal of the Fifa World Cup 2018 and give Brazil their first win of the tournament.
While this was a much better performance against a Costa Rica side, who went down to Serbia in their opening match of Group E, Brazil really should have cruised home, even if they will take this late dramatic win.
After a tepid opening half, the Selecao struggled to finish off their chances in the second, and as a result it looked like they would have to settle for a 0-0 draw, before Coutinho came to the party again for Brazil. Neymar, in the seventh minute of stoppage time, then made it 2-0, tapping home off a pass from Douglas Costa.
The pattern of this game was much like the ones we have seen time and again in this Fifa World Cup 2018 – one team holding their shape, defending deep and asking the other to try and find a way through.
It looked unlikely to happen, barring one or two half-openings, in the first half, with Costa Rica defending really well. No space was given through the middle, while the wing-backs defended brilliantly against Neymar and Willian, so much so that the latter was substituted at half-time.
That change from Tite did make a difference, with Douglas Costa coming on and making a difference, adding a bit more pace, directness and trickery on the Brazil right.
There were chances aplenty for Brazil in the second period, but, for some reason, the ball just would not go in.
Neymar had a couple, shooting a couple of really presentable shots high.
Coutinho, outstanding for Brazil again, had one strike saved off the line by a Costa Rica defender, while another was brilliantly kept out by the excellent Keylor Navas.
Gabriel Jesus hit the crossbar with a really nice header, and as the pressure increased with every passing minute, you felt the goal would come.
It looked like being via a penalty, when Neymar looked to have hoodwinked the referee, before Coutinho did it the right way, poking the ball home right at the end to give Brazil a deserved three points, with the PSG man, in the final seconds adding the gloss to the scoreline, a scoreline that brought Neymar to tears.