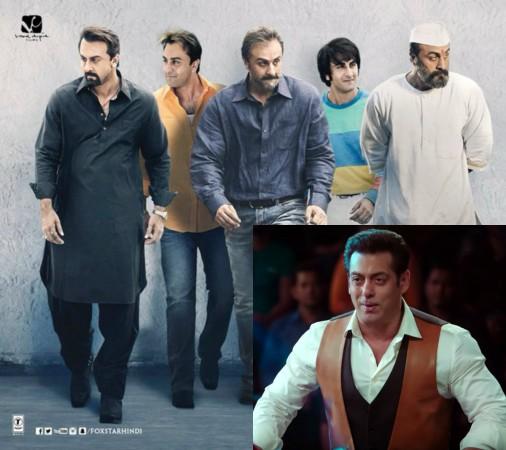 The recent Bollywood release, a biopic on the controversial life of actor Sanjay Dutt, Sanju has been a huge hit at the box office. Audience and critics have nothing but rave reviews for the Rajkumar Hirani directorial on Twitter. The film stars Ranbir Kapoor as Sanjay Dutt and the cast includes an ensemble of big names portraying key roles like that of Sunil Dutt, Nargis. Sanju has set out to become the biggest hit of 2018.
Those who have watched the film would remember the clip from Munnabhai MBBS, where Ranbir's body was morphed in place of the original Sanjay. It has become the new target of memes. The Twitterati have come up with some really humorous memes and some of them are taking a dig at Salman Khan.
Recently, Rajkumar Hirani had revealed Sanjay Dutt's reaction after watching his own biopic. He said that Sanjay remained quiet during the entire film and was in tears by the end of it.
Talking about the same, Hirani was quoted by Hindustan times saying, "Before the screening, I suddenly got frightened. We had shown everything and he (Sanjay Dutt) never came to the shoot. I was wondering, what will be his reaction? We might get beaten up too. He was sitting in the seat next to mine. He was watching the film and I was stealthily watching his reactions. It was only when the film ended that he cried and hugged me and Ranbir."
Sanju also stars Anushka Sharma, Manisha Koirala, Paresh Rawal, Diya Mirza, Vicky Kaushal and others. The biopic has a special appearance by Sanjay Dutt himself. All the actors have done a splendid job in the film and Vicky Kaushal's performance especially has received special recognition from critics and other Bollywood celebrities.
Check out the hilarious memes by the Twitterati here: