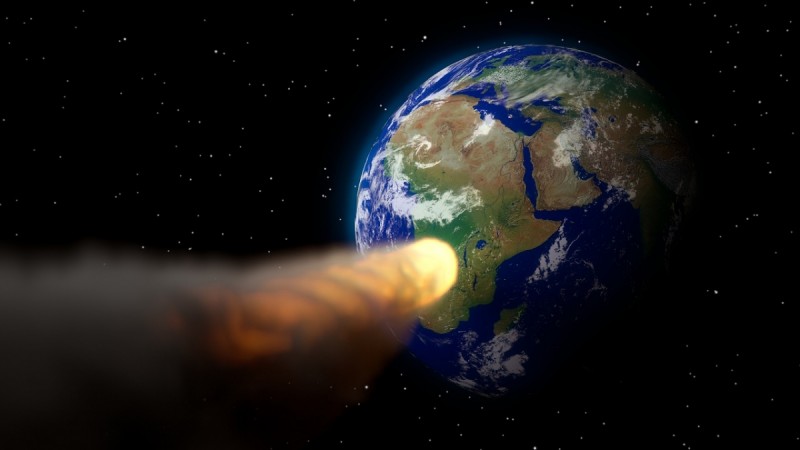 NASA had earlier announced that an asteroid named 2002 NT7 may be in for a brush with Earth and a "low probability of impact in 2019".
ALSO READ: Spooky skull-shaped asteroid will pass by Earth again in 2018

The story was then withdrawn after four days and NASA stated that the space rock was no longer a threat.
The astronomers had even given a date of the possible asteroid collision, speculating it to hit Earth on February 1, 2019 at 11:47am GMT with an impact equal to 30 million nuclear bombs.
This sudden change made by NASA led conspiracy theorists to call it a "cover up." But the space agency clarified that it was just a re-evaluation.
ALSO READ: Pieces of UFOs recovered by researchers are kept hidden in Las Vegas, claims Ufologist
As per NASA astronomers, asteroid 2002 NT7 was likely to have "worldwide effects". The change in the statement made by the space agency triggered several videos on YouTube and Google warning about an upcoming apocalypse in 400 days' time.
The first announcement about the space rock was made in 2002, according to which the odds of impact were one in 75,000 and rising, as reported by Daily Star.
An asteroid which is as big as 2002 NT7 and flies at its pace has the potential to wipe out a continent and may lead to climate change across the world.
ALSO READ: Here's why you shouldn't gift sex to your partner this Christmas, according to a sexologist
As per the predictions made by the astronomers regarding the space rock, it would strike Earth at a speed of 17 miles per second and it would strike Earth with the force equal to that of 30 million Hiroshima bombs.
This space rock is one of the first ones which is rated as "impact risk positive".
"We are talking about a global disaster of apocalyptic dimensions if an asteroid that size were to hit us," said Dr Benny Peiser, from Liverpool John Moores University, as quoted by Daily Star.
ALSO READ: Include these in their diet to improve lung health
But NASA changed its announcement just after four days and stated there is nothing to fret about. Astronomers stated that it was not going to pose any danger to Earth.
"After all the talk [the announcement] kicked up, just four days later, four days, which out of all that time just four days of observations there is no way it changed their calculations that much," said YouTuber Justin Knight.
"But they are saying it did, and they did not believe and are ruling out the possibility of an impact on February 1, 2019."
ALSO READ: Avoid these 5 things from your diet during periods
Around three videos claiming that NASA is trying to cover up the asteroid collision have been removed from the website sharing them.
Space.news, a website sharing news about space and conspiracy also raised the question regarding the space agency covering up the asteroid. The website stated that the alteration made in the statement by NASA was suspicious and even asked whether the changes made in the statement was sincere or not.
"NASA's prompt backpedaling of their statement had many people more worried about whether the agency was telling the truth than the asteroid threat itself," the website stated.
ALSO READ: Combat type 2 diabetes with these foods
NASA has removed the asteroid from its risk table, the space rock is expected to pass by Earth on January 13, 2019.
The space rock will be at a distance of around 38 million miles of Earth, which is further away than Mars.
ALSO READ: 'Sperm bandits' gangrape male hitchhiker in South Africa
The scientists are still taking the asteroid threat seriously and are working on defences to safeguard life.