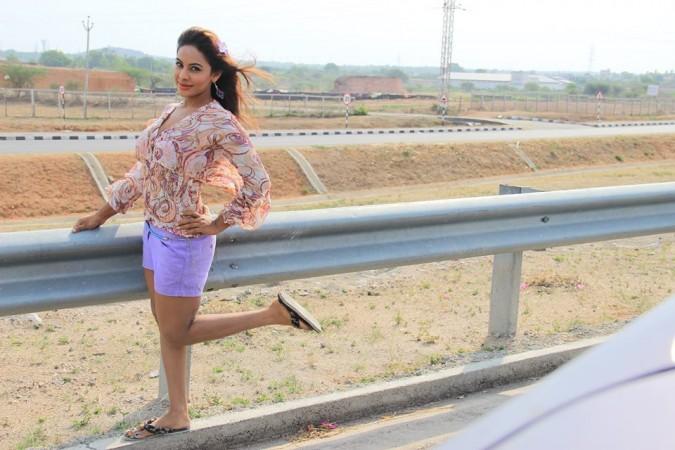 Controversial actress Sri Reddy has threatened to open up on actor Nani's alleged lust stories and wrote a cryptic post saying 'Nani+Sri Reddy = Dirty Picture' on Facebook.
A few months ago, Sri Reddy caught everyone's attention as she opened up on the casting couch issue in Telugu film industry. She had also threated to reveal some shocking details on natural star Nani but had kept mum on the issue. She recently posted on her Facebook page, "Nani + Sri reddy =dirty picture..when??coming soon.."
Many people in Tollywood were anxiously waiting to see what Sri Reddy would reveal, while filmgoers constantly kept asking her about it on social media. She was having a video chat with fans when she spilt the beans about him. Replying to one of her fans, she said she had a lustful story with actor Nani and she would reveal it soon.
Sri Reddy said, "It's a love our story. Sorry! It's not love story! It is a lust (Kamam) story. I will reveal it very soon. Nani, you are talking about the offer you gave me. Don't you remember the kind story that transpired between us. Today you are giving a buildup of a great hero for yourself. I know about the programme you organasied. I also know who are all you roamed around with. I will reveal them at the right time."
Nani is set to foray into TV industry and he will host the second season of Bigg Boss Telugu, which is going on air from Sunday evening. It was rumoured that Sri Reddy would be one of the 16 contestants of the reality TV show. The viewers were curiously waiting to see how her equations will be with host Nani and whether she will reveal more dark secrets about the Telugu film industry.
But Sri Reddy put all the speculations by clarifiying Bigg Boss Telugu 2. She posted on Facebook, "Bad news to my friends..i swear..my bad luck..I am not there in "big boss"..dnt expect me..I know few are very happy.. few wl be upset.. contistents are very lucky..#all the best to bigboss team.. [sic]"