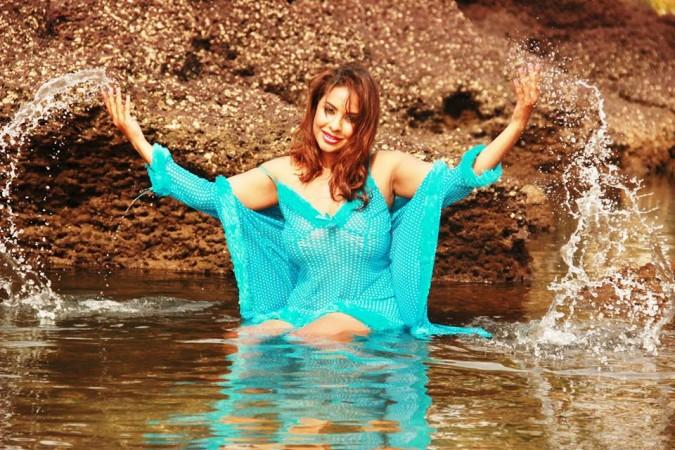 Controversial actress Sri Reddy has revealed that she will release a "dirty picture" involving actor Nani. Her announcement has raised a doubt that it must be her strategy to steal the limelight from Bigg Boss Telugu 2.
It is known that Sri Reddy had recently posted a lengthy comment on her Facebook page condemning actor Nani for his ego and attitude. She had said that he should learn good behaviour from Ram Charan, Mahesh Babu and Jr NTR. She had also alleged that he had sexually exploited some girls and god will punish him for it.
Though her controversial comment created a lot of buzz on social media, Nani had stayed away from responding to it. Weeks after this, Sri Reddy has launched another attack on the natural star. This time, she has threatened to release a dirty picture. She posted on Facebook on Thursday, "Nani + Sri reddy =dirty picture..when??coming soon.."
Sri Reddy had shot to fame with her allegations of casting couch in the Telugu film industry. Her protest was gaining momentum when her abusive rant against Pawan Kalyan took away all the attention. Post this, her protest against sexual harassment lost track and she is trying to bring back the momentum. She has targeted several big names on Facebook, but nothing has helped her to be in the news.
Bigg Boss Telugu 2, which marks the debut of Nani in TV industry, will start from June 16. The people in the film industry feel that Sri Reddy's latest comment must be a publicity gimmick to steal the limelight of this popular. But her desperate attempt to be in news will not yield results unless she has some solid evidence.
A possible contestant list of Bigg Boss 2, which is doing rounds in the media, shows that Sri Reddy would be one of 16 participants to be locked inside the house. Many of her followers are asking her about the show, but she has been giving them prank replies to them. She also posted on Facebook, "It seems like megastar family has a lot of influence on Bigg Boss. Did Nani tell? I and Nani are arch rivals; what shall we do about it Nani?"