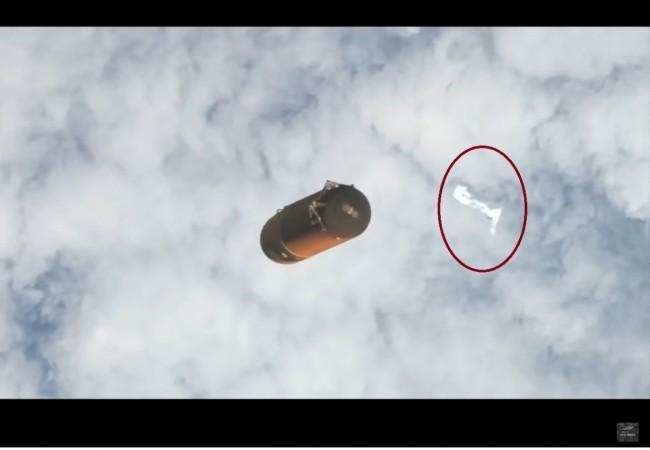 A mysterious white object was spotted in an archive footage of a NASA shuttle launch which took place in 2011.
ALSO READ: Want to boost your sex drive? Include these foods in your diet
The footage left all the UFO hunters baffled as the video pointed towards the presence of an unidentified white object.
The mysterious object appears right beside the clouds near the enormous external fuel tank which was falling back into the earth after being discarded from the Space Shuttle Endeavour, which is a retired orbiter from NASA's space shuttle.
ALSO READ: Conspiracy theorist claims Apollo moon landing was hoax, posts photo as proof [VIDEO]
UFOlogists closely observed the footage which was posted on NASA's official YouTube channel and it was uploaded again by the YouTube channel UFO Today.

The channel described this mysterious object as the "White Knight Satellite", which is said to be an alien satellite that has been orbiting Earth past thousands of years.
ALSO READ: These anti-ageing foods help you stay young, naturally!
In the video, it can be seen that when the fuel tank was disconnected from the NASA's craft just a few minutes after its launch.
Such conspiracy theories are often disapproved by NASA, which believes that we won't be making any contact with the aliens anytime soon.
ALSO READ: Do birds and animals fart?
Tony del Genio, the co-lead of NASA's NExSS project at the Goddard Institute for Space Studies in New York speculates that we could be just a few decades away from finding alien life.
"I think that in 20 years we will have found one candidate that might be it," Del Genio said, as reported by Mirror.
ALSO READ: This is what former NASA engineer reveals about space UFO sightings
According to him, extraterrestrial life forms are likely to exist in places and forms which are extremely bizarre and may significantly differ from the ones existing on Earth.
WATCH VIDEO: