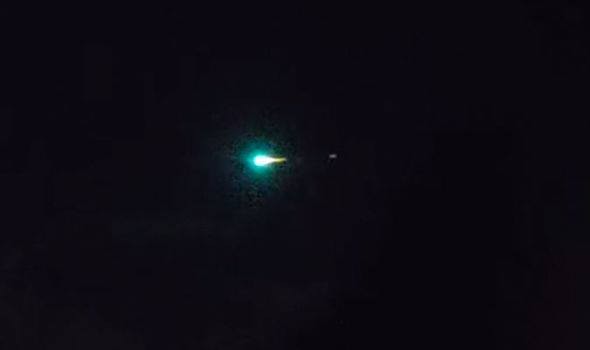 A mysterious fiery object was spotted in the skies above the UK on New Year's Eve, which left people baffled.
ALSO READ: Crashed 'UFO' seen being towed in Mexico left everyone shocked, here's the truth behind it
The International Meteor Organisation (IMO) received around 679 reports by spectators from England and Scotland.
People saw a huge ball of light flying in the Britain skies on New Year's Eve.
ALSO READ: Here's how you can get the best orgasms
"Probably one of the last bright fireballs of 2017, but what a fireball! More than 150 witnesses reported a very bright meteor observed around 17h 35min UT, on December 31, and reports keep coming in!" International Meteor Organisation tweeted.
A massive meteor broke up over the UK a few hours ago. Reports from the whole length of Britain describing a huge green fireball. Some good videos too. https://t.co/m4osxF4pp6

— Simon Roth (@SimoRoth) January 1, 2018
UK Meteor Network also tweeted about IMO receiving over 700 public reports about the happening.
IMO now received over 700 public reports about the a fireball seen on December 31st 2017 around 17:36 UT. Most of those reports came from UKMON. Thank you all!

— UK Meteor Network (@UKMeteorNetwork) January 1, 2018
ALSO READ: Are protein bars really healthy for you?
The bright green coloured light left the spectators amazed, some thought it was a shooting star. Many others shared the recorded footage and their experiences regarding this startling event on social media.
"Bright blue/green light sped across the sky, over the castle towards Denaby Crags. So low in the sky, genuinely thought it was coming to land. Stunning sight! Breathtaking," Lin Mathers stated on Twitter, Express.co.uk reported.
ALSO READ: Here's the latest horrible sex trend that you need to beware of
The rumours about this being an alien visitation were rubbished by the International Meteor Organisation, which revealed that it was a meteor that had entered the Earth's atmosphere.
The celestial body is speculated to be a part of the annual Quadrantid meteor shower which takes place from December 22 to January 17.
WATCH VIDEO: