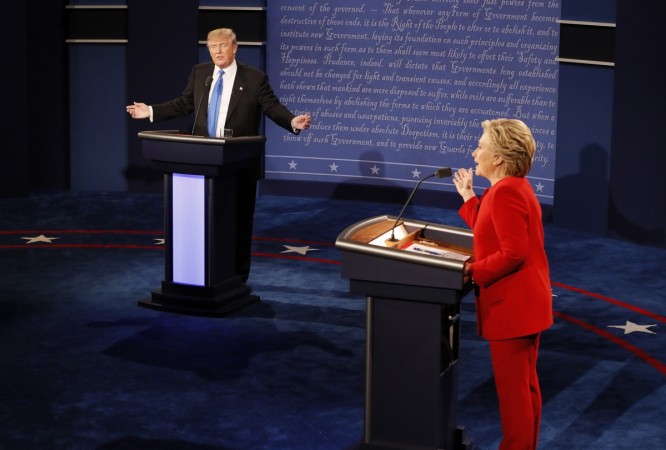 Here are some stories from International Business Times India to start your day with:
1. Clinton and Trump butt heads on Syria and minorities during presidential debate
Donald Trump and Hillary Clinton squared off in the second presidential debate on Sunday evening local time. This will be in a question and answer format, with the audience asking the questions and moderators ABC News' Martha Raddatz and CNN's Anderson Cooper adding follow-up questions. Read more...
2. Telangana: Police book Jain couple over teenage daughter's death after 68-day fast
The police have booked the parents of Aradhana Samdariya, the 13-year-old girl from Secunderabad in Telangana who died after observing a 68-day fast in keeping with the Jain tradition of Chaturmas or Chaumasa. The couple has been charged with culpable homicide not amounting to murder. Read more...
3. British glamour model Kimberley Miners arrested over links with Isis
A 27-year-old British model named Kimberley Miners, who was earlier suspected to have been groomed by a recruiter for the Islamic State group, has been arrested by the police and questioned over her involvement with the terror outfit after photos of her clad in burka surfaced online. Read more...
4. Robert DeNiro worried US might go in 'wrong direction' with someone like Donald Trump
Several Hollywood celebrities have spoken out against the Republican presidential nominee Donald Trump and actor Robert DeNiro is the latest to join the list. A recently released video captures the actor's frustration with Trump. Read more...
5. Mobile phone brand Intex launches smartphone costing just $37
Indian smartphone brand Intex has now come out with a new 3G-enabled phone whose USP is that it is priced at an ultra-affordable $37 (Rs 2,400). This handset called the Intex Aqua Eco 3G comes claims to work in perfect sync with the 3G service providers even in rural parts alongside the urban pockets. Read more...