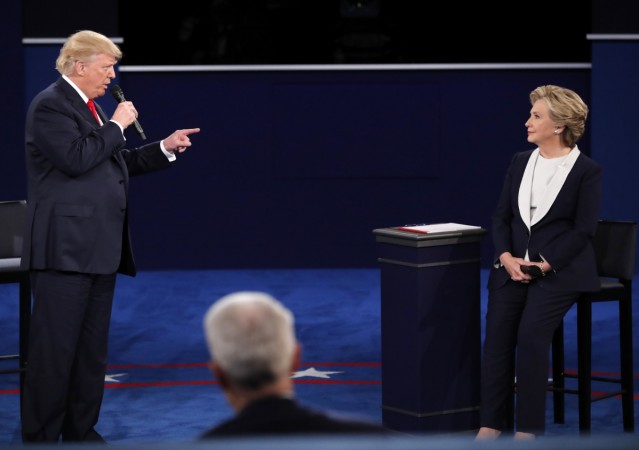 Donald Trump and Hillary Clinton squared off in the second presidential debate on Sunday evening local time. This will be in a question and answer format, with the audience asking the questions and moderators ABC News' Martha Raddatz and CNN's Anderson Cooper adding follow-up questions.
Here are the live updates:
8:07 am IST: In response Trump says, "I consider her statement about my children a very nice compliment. I don't know if it was meant to be a compliment, but I consider that a compliment. I will say this about Hillary, she doesn't quit, and she doesn't give up. She's a fighter."
8:05 am IST: Debate ends with an audience member asking candidates to say one good thing they respect about one another. Clinton said: I respect his children. His children are incredibly able and devoted, and I think that says a lot about Donald.
8:00 am IST: Clinton says that the US is energy independent for the first time in many years, but the fact that oil prices are still controlled by the Middle East is a huge problem.
7:58 am IST: Trump starts talking energy production in the country by saying it is under siege by the Obama administration. Foreign companies have come in and taken over the energy production, says Trump, adding that he is all for alternative energy, but the US needs more than just wind and solar energy. He wants to tap the "tremendous energy" underneath the earth, with the help of American companies and pay back America's "tremendous debt" with energy production.
7:55 am IST: On an audience question about the appointment of Supreme Court Justice, Clinton said that it would be a top priority if she is elected. She would want someone who understands how the real world works to be the Justice, someone who understands that voting rights are a big problem in many parts of the country, someone who respects women's right to choose and continue to respect marriage equality.
7:50 am IST: Clinton says she is proud of the campaign she ran with Bernie Sanders because it was about issues and not insults. Trump responds to this by saying America is a divided nation because of people like her [Clinton], adding, "She has tremendous hate in her heart."
7:48 am IST: Clinton says throughout her career she has been working with and for minority groups and that everything she has done has been for the betterment of the nation as a whole. She points fingers at inciting of violence in Trump's rallies, rude comments he made about women, PoWs, immigrants, people with disabilities, Hispanics and African-Americans, further saying he has not apologised for anything.
7:46 am IST: Trump and Clinton talk about minority voters. Trump claims he will be a president for all the people, including African-Americans, inter-cities and Hispanic Americans. He says Democratic party only talks about issues but does nothing to solve it.
7:43 am IST: Clinton says she would tackle the issues in Syria by specifically going after Abu Bakr al-Baghdadi and arming the Kurds, who have been America's greatest allies.
7:40 am IST: Trump criticises leaders that announce future attacks on Mosul, call it stupidity. Trump wants American army to perform sneak attacks, says Mosul is no longer the hotbed of Isis activity.
7:36 am IST: On Syria, whose situation has just been compared to the Holocaust in a question, Hillary trains her guns on Russia again, saying it wants the Syrian President Bashar al-Assad to stay in power.
7:30 am IST: Trump accuses Hillary of planning to raise taxes. "Donald stands for Donald, and people like Donald," she responds. Meanwhile, did Trump just admit on live TV that he did not pay federal personal tax for several years?
7:25 am IST: Trump says he will release his tax details as soon as the audit is done.
7:20 am IST: Hillary says Russia is working to influence the US elections, and "WikiLeaks is part of that," when asked about her paid speeches and how politicians can have public and private opinions.
7:16 am IST: Hillary says terrorists are using things like Trump's stance to recruit more militants.
7:15 am IST: Trump is again grilled on his statement from last year about not allowing Muslims in the country, and sticks to the term "extreme vetting."
7:10 am IST: Asked by a Muslim woman on how Muslims will be treated in the country, Trump says people must recognise "radical Islamist terrorism" for what it is.
7 am IST: The issue of Obamacare comes up, and Hillary simply takes away the wind from Trump's sails by beginning with what he would have said on the issue. Then she goes on to explain her whole agenda on it.
6:55 am IST: Hillary says Trump, who has again brought up the emails issue after a question was asked, and openly threatened her of official inquiry and possible prosecution, should not be president, and Trump replies: "Because you would be in jail."
6:50 am IST: Trump brings up the women who accused Bill Clinton of sexual inappropriateness. Hillary retorts, asking Trump to apologise to the Khans, whose soldier son died while fighting for the US.
6:45 am IST: Trump is grilled about the tape. Cooper asks him about the video, and he keeps repeating: "It was locker-room talk."
6:40 am IST: Asked about the content of the previous debate and the mature overtones, Hillary gives a more sedate reply, and veers towards her campaign slogan "Stronger Together." Trump flies off on a tangent, and out of nowhere brings up Isis and his desire to annihilate them.
6:35 am IST: The presidential debate, in Town Hall format, begins, as Trump and Clinton take the stage.