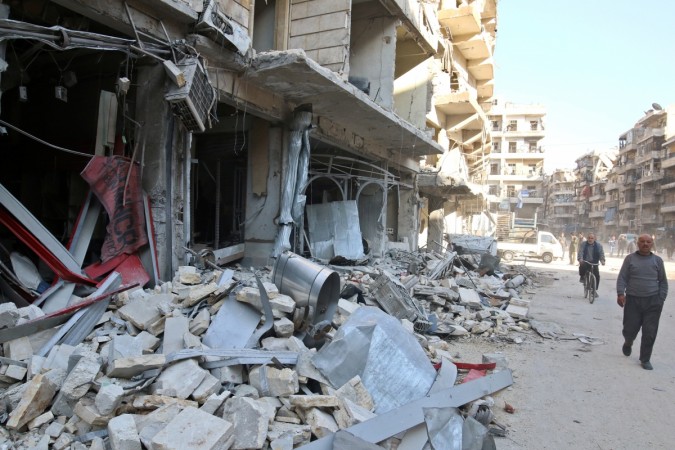 Here are some stories from International Business Times, India to start your day:
1. Regime forces are targeting hospitals in Aleppo, says monitoring group
Forces belonging to the Syrian regime are reportedly targeting hospitals in Aleppo in a continued effort to destabilise the region and frighten people away from supporting the rebel forces that want the current government headed by President Bashar al-Assad gone. The regime forces have already warned Aleppo residents to "flee or die" before conducting earlier attacks. Read more...
2. TN chief minister shifted out of ICU to special room
Tamil Nadu Chief Minister and All India Anna Dravida Munnetra Kazhagam (AIADMK) chief Jayalalithaa has been shifted out of the Intensive Care Unit (ICU) of Apollo Hospitals in Chennai, and is currently in a special personal room. The announcement was made by her party on Saturday evening. Read more...
3. Premier League (EPL) results: Olivier Giroud saves Arsenal at the last as Manchester United throw away two points
So, that's 14 competitive matches without a win over Jose Mourinho for Arsene Wenger then, and this should have been another one in the victory column for the Portuguese, only for one of the Frenchman's substitutes to grab a point at the death. Read more...
4. Xiaomi working on a mini version of Mi MIX: Price, specs leaked
Xiaomi impressed us all by making its concept phone Mi MIX available in the market, but the company is not done just yet. According to a source, the Chinese smartphone maker is working on a mini version of its concept phone, to be called Mi MIX Nano. Read more...
5. Melon Music Awards 2016 winners: EXO beats BTS; Hong Jin Young becomes best Korean trot singer
Melon Music Awards 2016 winners has been announced at the Gocheok Sky Dome in Seoul on Saturday, November 19. South Korean-Chinese boy band EXO bagged four awards beating its global competitor BTS in the seventh annual event. Read more...