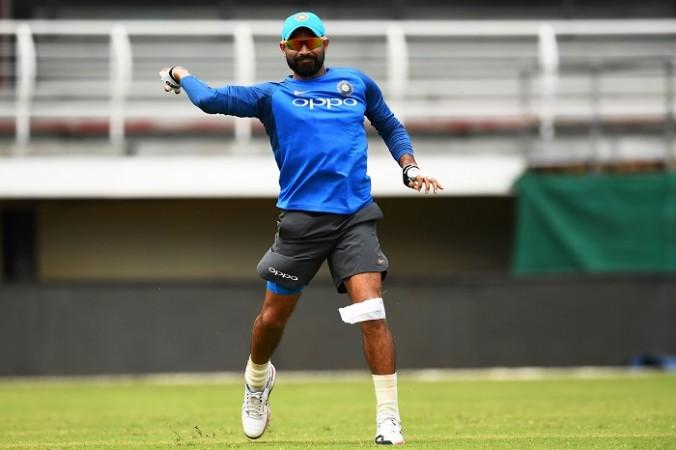 India fast bowler Mohammed Shami suffered a head injury while he was traveling from Dehradun to New Delhi on Sunday, March 25.
The 27-year-old pacer needed stitches after minor injuries to his head, according to ANI news agency. He is currently undergoing recovery process in Dehradun.
Shami has been embroiled in a marital feud with wife Hasin Jahan after the latter filed a police complaint accusing him and four of his family members of rape and attempt to murder. An FIR was filed by Kolkata police under several non-bailable sections against the Bengal cricketer.
Jahan had hinted about Shami's involvement in match-fixing as well. However, the Board of Control for Cricket in India gave him a clean-chit after an investigation by the apex body's Anti-Corruption and Security Unit.
After getting back his BCCI annual retainership contract, Shami was gearing up for the 11th season of Indian Premier League (IPL). Notably, he was bought by Delhi Daredevils for Rs 3 crore using a Right-to-Match card at the auction in January.
Shami had been training at a cricket academy run by Bengal batsman Abhimanyu Easwaran's father in Dehradun. He had wanted to rejuvenate mentally and physically at the academy, according to The Times of India.
The Daredevils pacer left Dehradun on Sunday morning, after which he suffered the accident. Notably, IPL franchises are expected to begin preparatory camps in the coming week ahead of the 11th season of the cash-rich league, starting April 7 in Mumbai.
Meanwhile, Shami said he was relieved after the clean chit from the BCCI. He also revealed he was going through mental torture over the last 10 to 15 days because of the "dirty allegations" of wife Jahan.
"It was a family issue. False allegations were leveled against me. It is a kind of mental torture. So, last 10-15 days were really tough for me. I am trying to come through it as soon as possible," Shami was quoted as saying Friday, March 23 by ANI.
He had added: "A lot of dirty allegations were leveled against me as well as my family which I don't think anyone will admit. As I have got a clean chit by the BCCI, I am hoping to come out innocent over every allegations. So, I am hopeful of not getting convicted for the offense which I have not done."