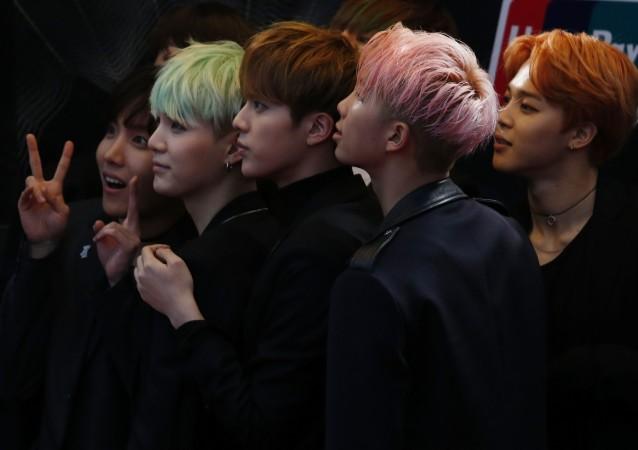 Mexican talk show host Horacio Villalobos has courted controversy after he called the members of popular South Korean boy band BTS (Bangtan Sonyeondan) gay. The host has now apologised for his comments, but fans are in no mood to forgive him.
When BTS members RM, Jin, Suga, J-hope, Jimin, V and Jungkook attended the 2018 Billboard Music Awards on May 28, the host had commented on their fashion choices.
"It doesn't matter if they wear 'Gucci' clothes. This 'Gucci' collection is a fail. They look like an LGBT group. They are all men? They look like they would work at a gay club," Villalobos had said, according to AllKPop.
This didn't go down well with BTS Army (fans), who slammed the host for making such offensive comments. A day after the controversy, Villalobos took to Facebook and Twitter to apologise.
"We never intended to offend fans of BTS or anyone in our fashion section of 'Farandula 40. If we did, we offer you a sincere apology," he shared on his social media pages.
However, BTS fans are not in a mood to forgive the host for his comments.
"I hate it when people say something CLEARLY offensive and then when they get called out on it are "omg I'm so sorry. I did not mean to offend anyone" If you do not like someone or something just keep your mouth shut," Facebook user Hatsume Lee Young commented on the post.
"They did not offend ARMY; offended BTS with stereotypes and also the LGBT community. They are the ones to whom they owe an apology. "A great power carries a great responsibility", and you sadly do not know how to use it in the right way, since you only know how to generate hatred," Twitter user @LY_0688 said.
"Never was it? Hahaha You guys knew what you were getting into you knew what would happen if they said comments like that And even so they did so now accept the consequences," Facebook user Märiä Säntämäriiä said.