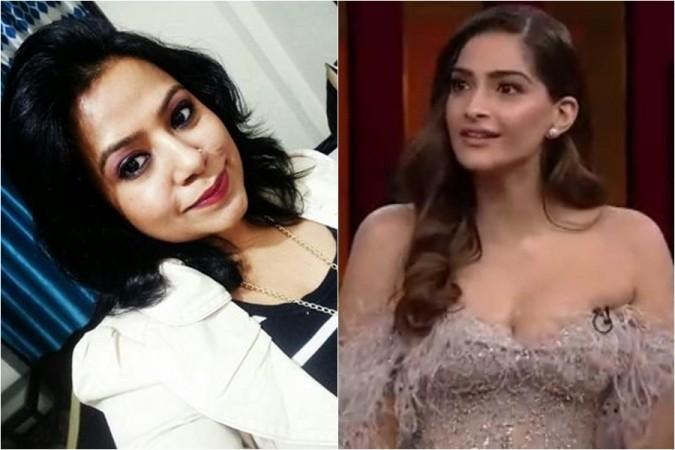 Deepika Bhardwaj, a human rights activist and documentary filmmaker, has called out Bollywood actress Sonam Kapoor for her statement on MeToo which she made on Karan Johar's chat show Koffee With Karan season 6.
During the rapid fire round, when Karan Johar asked Sonam what would she do if a married actor hits on her, she replied, "And now that I am married, and even if I wasn't, if a married actor would hit on me, I would be appalled, shocked and basically say MeToo (flashing a grin on her face)."
After hearing to Sonam on Koffee With Karan, Deepika expressed her outrage against her statement and raised a pertinent concern on what should and shouldn't be considered as sexual harassment on Twitter.
"On Koffee with Karan, Sonam Kapoor says that if a married man tries to hit on her, she will be appalled, shocked and say #MeToo. Wondering if a married woman flirting with a man is also that," Deepika slammed Sonam on what kind of verbal or physical conduct constitutes sexual harassment.
Deepika further simplied her words in another tweet saying, "Married Man hitting on a Woman: Sexual Harassment, #MeToo. Married Woman hitting on a Man: Her Body Her Choice."
Take a look.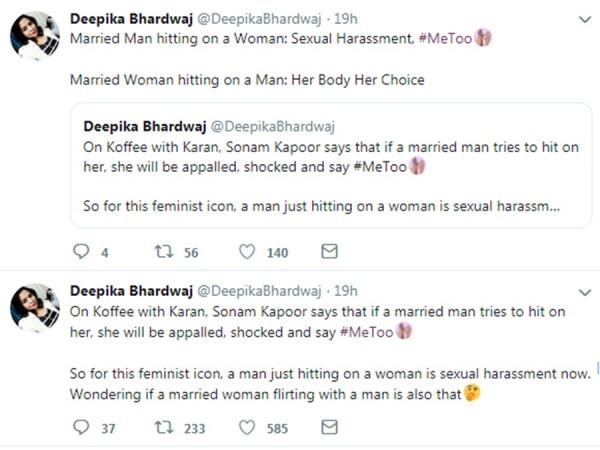 On a related note, last month, Sonam Kapoor had decided to take a break from Twitter after facing severe backlash when she had labelled a man on Twitter 'harasser'. She was accused of playing woman card to quickly dismiss an argument then. Later, people had called her a 'fake feminist' after she disregarded Kangana Ranaut's sexual harassment allegations against Vikas Bahl.
After maintaining a stoic silence for over a month on the matter, Sonam had given her two cents on the MeToo movement in India. She admitted that she has had been a part of the problem but pledged to stop working with proven sexual predators.
Deepika is the maker of a documentary called Martyrs of Marriage which exposes the misuse of IPC 498A (anti-dowry law). The documentary is currently streaming on Netflix.