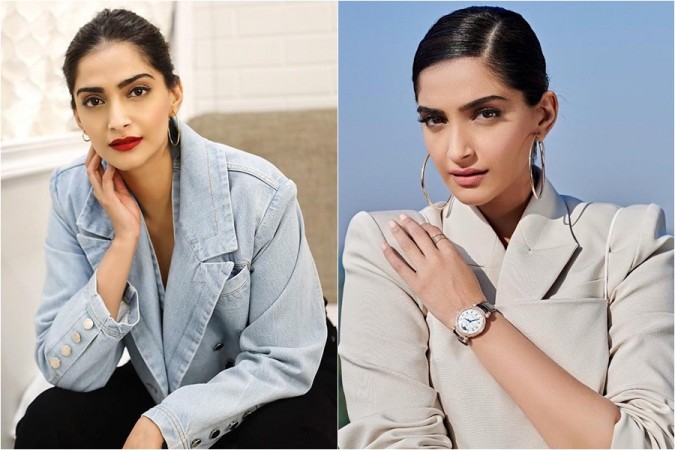 Sonam Kapoor is often talked about for her essentric style statements sporting a variety of designer outfits whenever she steps out in public. She has been termed as Bollywood's fashionista who never fails to bring the house down being at her stylish best be it at award functions, gala eventsor her wedding and receptions.
And while there's no denying that Sonam has always aced the game of fashion from experimenting her looks and donning the boldest of the bold outfits, the actress has currently seized the attention of her followers with a caption where she boasted of starting the movement of style on Instagram among celebrities.
"I'm so glad that so many actors are doing beautiful images of their outfits now. It's a great way to promote new designers and talent and get beautiful pictures! @rheakapoor and @thehouseofpixels we started this movement of style and art together!" Sonam Kapoor wrote on Instagram sharing one of her throwback black and white picture donning designer outfit.
Though her Instagram followers agree on part of posting beautiful images of outfits, they couldn't connect with Sonam where she claimed that she "started this movement of style."
People started trolling Sonam for saying something that according to most of them was not needed at all.
"You should have let the picture speak for itself. This caption seized the attention of followers and it was not needed. You are a fashion icon and all the Indians interested in fashion are already aware of that and admire your fashion choices!!" an Instagram user commented on Sonam's post.
Other user felt that Sonam wrote such caption because she was insecure of her style statements saying, "Remember when Sonam called Aishwarya Rai ''aunty'!!! Sonam is full of insecurities, I believe" while another user said, "Really doesn't sound like that , why post it after all."
Another Instagram user shunned Sonam's claims saying that the recording of art doesn't start with one person. "Creativity has always been recorded and praised be it a painting or an outfit. It's how people study art and fashion. This way of recording great creations of art certainly didn't start with one person!" the user wrote.
However, apart from criticism, Sonam also received a lot of praiseworthy comments on her fashion statements.
"I've had conversations with friends regarding this. It was quite noticeable how @sonamkapoor always gave credit to the team, even photographers, which is quite rare when it came to the many Indian actors. It's really unfortunate that when the actors post photos they do not give credit. So for that Sonam for going about it the right way!!!!" a user praised Sonam for statement.
Take a look.