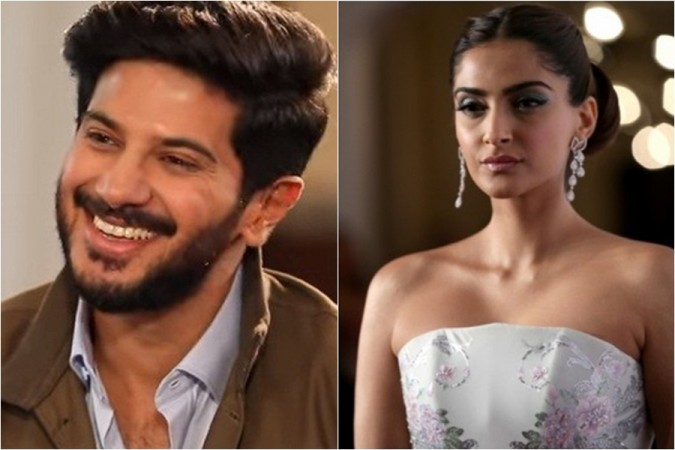 The Mumbai Police's Twitter handle is known for educating people about road safety in their own inimitable and sarcastic way. But this time around, the tables were turned on them when they schooled Sonam Kapoor and Malayalam actor Dulquer Salmaan for violating traffic rules and instead got some fact-checking lessons from them in return.
It so happened that Sonam, on Friday (December 14), shared a video on Twitter where Dulquer was seen sitting on the driver's seat and was seen fiddling with his phone leaving the steering wheel free of the moving car. In the video, Sonam can be heard calling Dulquer a 'weirdo'.
Within no time, the Mumbai Police pulled up Dulquer for trying such stunts and putting the lives of fellow drivers at risk. They even agreed with Sonam calling him a 'weirdo' and said that they don't approve of such stunts in reel life as well.
But little did they know that the car, in which Sonam and Dulquer were seated, by was rigged to a towing vehicle and weren't driving.
Responding strongly to their tweet, Dulquer gave Mumbai Police a short fact-checking course by informing them that they were shooting for the sequence of their upcoming film The Zoya Factor only after seeking permission from Mumbai Police and traffic management officers were present the whole time to moniter the shoot.
"Would appreciate it if you had checked some facts before tweeting this. In fact @MumbaiPolice helped us with permissions and traffic management during the shoot and were present the whole time. In my next tweet attaching the video I was shooting. #notawierdo," Dulquer Salmaan tweeted.
He added, "The car was rigged to a low loader truck which was also the camera rig. I couldn't steer or drive the car even if I wanted to. Also this particular car cannot steer itself."
Sonam Kapoor too was quick on informing the Mumbai Police that they weren't driving and even thanked them for their concern.
"We weren't driving we were rigged on a truck.. but I'm glad you guys are concerned.. I hope and I know you show the same interest in regular folk as well! Thanks for taking care," Sonam tweeted.
After learning the chronicles of the incident from Dulquer, the Mumbai Police responded to him by sharing a screenshot informing him that it was their duty to raise an alarm after a Twitter user had flagged their video. They suggested him that it would have been better if they had shared the video with a disclaimer.
".@dulQuer look at what one of the Twitter users made out of this. It is our duty to look into each & every complain. We are duty bound to raise an alarm, irrespective of who is on the other side. A disclaimer with the original video would have been a better choice," Mumbai Police tweeted.
Take a look.
Would appreciate it if you had checked some facts before tweeting this. In fact @MumbaiPolice helped us with permissions and traffic management during the shoot and were present the whole time. In my next tweet attaching the video I was shooting. #notawierdo https://t.co/WnKSnSDmjZ

— dulquer salmaan (@dulQuer) December 14, 2018
We weren't driving we were rigged on a truck.. but I'm glad you guys are concerned.. I hope and I know you show the same interest in regular folk as well! Thanks for taking care! #Reelvsreal @dulQuer https://t.co/JD1NvcqGrU — Sonam K Ahuja (@sonamakapoor) December 14, 2018
.@dulQuer look at what one of the Twitter users made out of this. It is our duty to look into each & every complain. We are duty bound to raise an alarm, irrespective of who is on the other side. A disclaimer with the original video would have been a better choice pic.twitter.com/Wbcf9QyKH8

— Mumbai Police (@MumbaiPolice) December 14, 2018