After facing severe backlash over unfairly calling a man 'harasser', Sonam Kapoor has now decided to take a break from Twitter saying it's just too negative.
Within no time, Twitter users ridiculed Sonam's evasive action and started questioning her stand being a staunch feminist against right and wrong.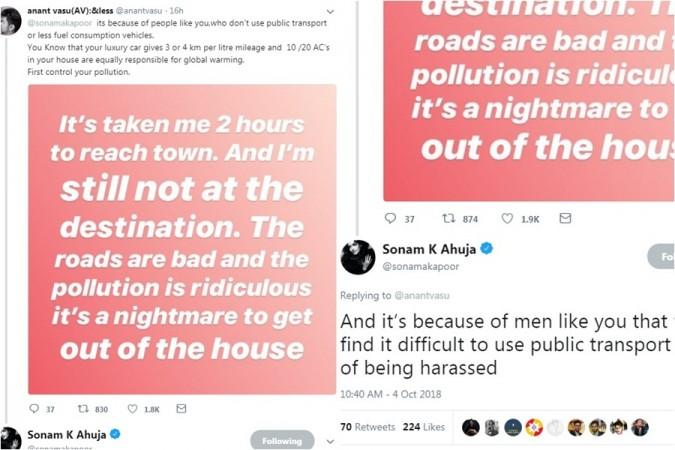 "Calling out innocent 21 yr old as harraser and defending AIB is peace according to you?" a Twitter user commented.
"How it is so easy to accuse a young guy a harasser and leave Twitter following a backlash!!!" another Twitter user commented.
For the uninitiated, Sonam Kapoor had tweeted "Good on you AIB" soon after the comedy group issued a statement following multiple sexual harassment allegations against stand-up comedian Utsav Chakraborty. However, Sonam was quick to delete her tweet but not before Twitter users took a note of it.
The Veere Di Wedding actress happens to be a good friend of Tanmay Bhat, co-founder of All India Bakchod group and had supported the comedy group earlier when they had faced massive flak for their AIB Roast episodes on YouTube in 2015.
"I love the comments that AIB has already made. It doesn't matter what the content is, people should be allowed to put out anything that they feel. I don't believe in censorship. That's all that I have to say." Sonam Kapoor said in a tweet which she later deleted for unknown reasons.
Meanwhile, AIB in a new statement, have apologised and regretted offering work to Utsav Chakraborty even when his obscene behaviour towards women was reported to Tanmay Bhat.
Read the full statement here:
"A statement ; We're sorry
We would like to address something that's been said since allegations of sexual harassment were made against former AIB employee Utsav Chakraborty yesterday. It's been said that AIB knew of the accusations during his employment and failed to take action. We'd like to offer some clarity on that.
We messed up. Since yesterday we've been trying to introspect and process what we did wrong, and everything that came up during our conversations all feel like excuses in hindsight and fact of the matter is that we messed up.
Some time after Utsav had stopped being an AIB employee, Tanmay Bhat received specific, detailed allegations about him in a private and personal conversation. Tanmay confronted Utsav in a personal capacity - which led to Utsav calling the victim, leading to further harassment. At the time, the accuser did not wish to pursue any further legal action. Out of respect for the person's privacy, nobody else at AIB was informed of the specifics of the situation, and the matter ended there. And so, as a company, we continued working with Utsav in a freelance capacity for a little longer. That's on us. We made a big mistake. We should have cut all ties immediately.
Since then, there have been occasions where we have heard stray insinuations against Utsav in passing, in green rooms and in comedy circles, most of which were commentary on his unprofessional or confrontational behaviour towards other comics. These insinuations were vague with no specific sexual details and no indication of the degree of sexual transgressions. And so we let our cognitive biases do the work our critical faculties should have. That should have been enough for us to listen, investigate, and take necessary action. We failed to listen when we should have and for that we are sorry. As senior members of the comedy fraternity, we could have showed better stewardship of the culture, by listening, instead of normalising.
This is the most honest account we can put forward of what we knew, how much we knew, and what we did and didn't do on the basis of the information we had. We made mistakes in how we dealt with this information and this situation.
But. All reasoning beyond a point is just going to sound like we're making excuses. It does not justify any of our actions. We also completely understand anyone who has felt disappointed, or angry, or betrayed by us over the last few days. We're sorry."