Sonam Kapoor has landed herself in hot waters for calling a Twitter user 'harasser' and playing 'victim card' when the latter criticised her for not using public transport.
It so happened that the Veere Di Wedding actress got stuck in traffic while commuting in her car on Thursday afternoon. She took to her Instagram stories to vent out her frustration and said, "It's taken me 2 hours to reach town. And I'm still not at the destination. The roads are bad and the pollution is ridiculous it's a nightmare to get out of the house."
She even took to her Twitter on Friday to share the kind of music she likes listening to whenever she was travelling.
A Twitter user, however, tried to school Sonam for not using public transport and held her responsible for global warming.
"Its because of people like you,who don't use public transport or less fuel consumption vehicles. You Know that your luxury car gives 3 or 4 km per litre mileage and 10 /20 AC's in your house are equally responsible for global warming. First control your pollution," the Twitter user wrote.
His reply irked Sonam to such an extent that she shot back at him and said, "And it's because of men like you that women find it difficult to use public transport for fear of being harassed."
ALSO READ: Woman leaks comedian Utsav Chakraborty's obscene messages on Twitter; AIB promises to remove his videos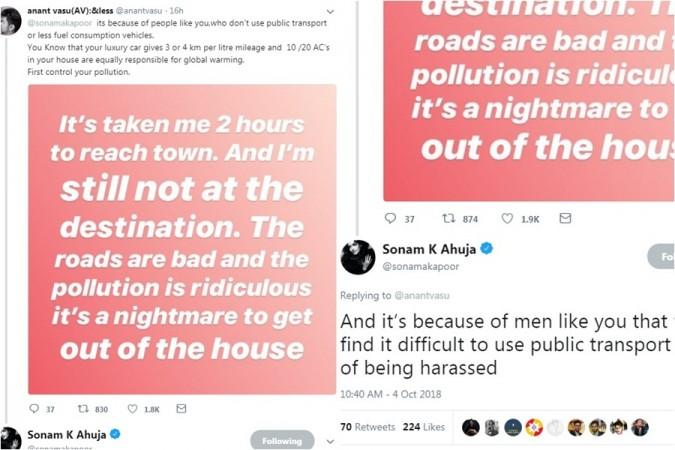 But her reply didn't go down well with the Twitter user who gave a befitting reply and warning of dragging her to the court for her choices of words.
"I can take you to the court for this coz I still believe in constitution. N i am not a judge without a degree like you. Shame shame shame shame," he replied.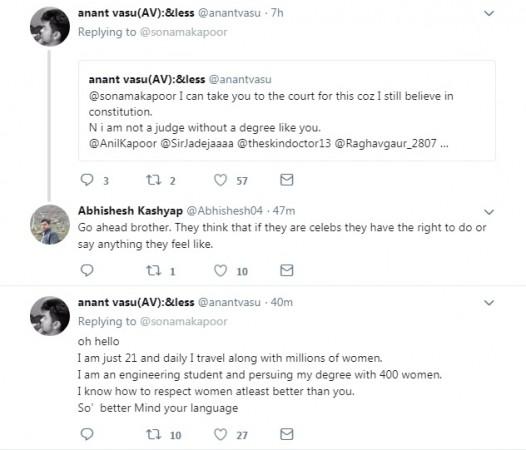 Other Twitter users too were not unhappy with the way Sonam reacted to the person and started slamming her for calling the man a harasser for no reason.
"He showed you facts politely and he becomes a harasser? AIB comedians are sending dick pics to minors and you lauded them. What more can you expect from a silver spooner gawar who is not even a graduate. Now take out your victim card. Oh lord zezus! I'm being harassed," an irked Twitter user took a stand for the man against Sonam Kapoor.
Another user joined the bandwagon and tweeted in support of the man, "He literally never said anything that would cause you fear. Playing victim at the wrong place with the wrong person I guess?"
Another Twitter user asked her a pertinent question of what made her assume that the man in question was an offender. "Madam can you please elaborate "men like you" part? Why and how did you assume he is an offender?" the user tweeted.
"Super formula! When cornered with no reasonable answers conveniently play the Women card and involve stuff like sexual Harassment. It's becoming a very common phenomena in Bollywood," another Twitter user commented.
And there were several other more Twitter users who thought that feminism is taking a wrong turn due to feminists like Sonam.
And it's because of men like you that women find it difficult to use public transport for fear of being harassed

— Sonam K Ahuja (@sonamakapoor) October 4, 2018