AIB comedian and YouTuber Utsav Chakraborty has been accused of sending explicit messages to minor girls on social media and asking them for their pictures without clothes.
It all started when Chakraborty condemned the obscene behaviour of Indian men onboard a cruise which ended up exposing the comedian's sexual misconduct with women, especially minor girls.
The Twitter user called out Chakraborty's indecent behaviour in a series of tweets. In the Twitter thread, she mentioned how the comedian had sent her his obscene pictures on Snapchat and requested her to delete them.
Her Twitter thread led many other girls to share their stories with the woman in DMs which she started off a chain of incidents.
ALSO READ: Vivek Agnihotri reacts to allegations of asking Tanushree Dutta to take clothes off; Chocolate AD narrates entire incident
After Utsav Chakraborty tweeted, "Oh to be Indian and not die a thousand deaths from second hand embarrassment every day", the woman replied to him in a series of tweets.
Read the Twitter thread here:
"Saw this on my tl. Interesting for you to comment on how Indian men harass women. Irony is still alive and thriving. Did they send unsolicited dick picks or that's safely only your territory? Or like cry after saying you'll ruin their career if you tell others? Or will they also blame that on the girls? The harassment they got that is," she wrote on Twitter.
Comedian Aditi Mittal slammed Chakraborty's behaviour after going through the woman's thread and tweeted, "What's up with this Utsav? Your behaviour has been consistently misogynist for a while and you keep pretending to be woke like your boyfriends at AIB who keep you employed as well. Women don't feel safe around you. What are you doing about this?"
Hey Utsav. How many girls have you harassed you vile man. These messages for a young girl I know.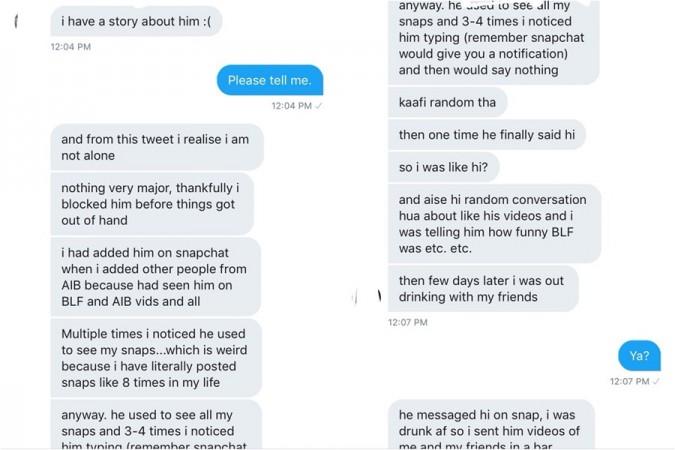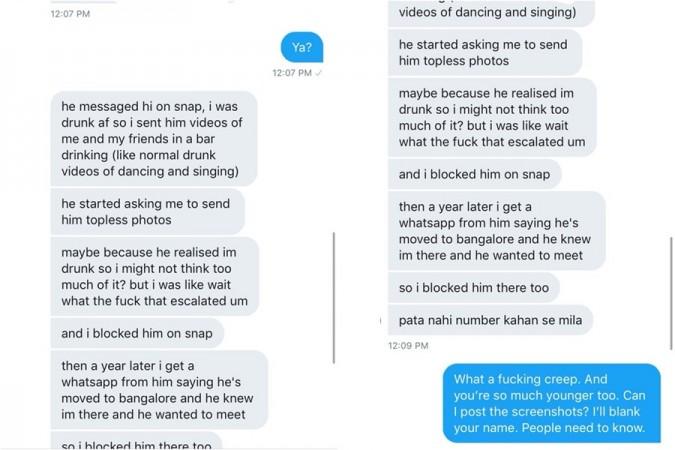 Following the allegations made against Utsav Chakraborty on social media, All India Bakchod (AIB) took to Instagram to condemn his actions. In their official statement. the AIB team said that they would be willing to cooperate and extend full support to the investigations. The team also added that they were delisting every single video on their channel which featured Utsav.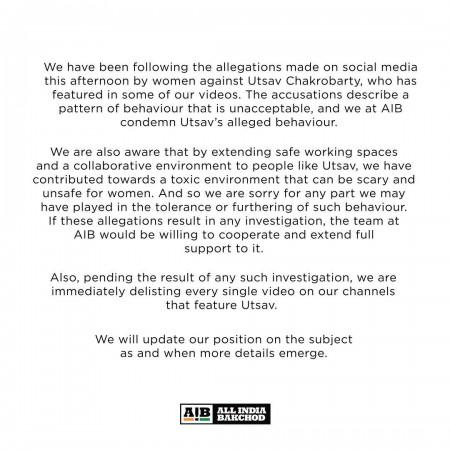 Utsav has also responded to the allegations in a statement posted on Twitter.