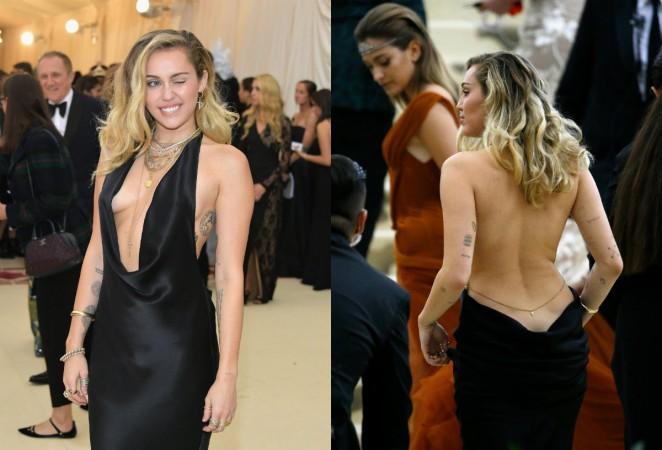 Theme or no theme, Miley Cyrus knows how to make a bold style statement. After her recent sophisticated appearance at the Grammys 2018, the Wrecking Ball hitmaker attended the Met Gala 2018 in a jaw-dropping attire.
The 25-year-old took the red carpet in black with her jewelry abiding by the Met Gala 2018 theme, Heavenly Bodies: Fashion and the Catholic Imagination. She attended the annual charity gala sans her fiancé Liam Hemsworth in a stunning McCartney black gown.
Miley made her appearance memorable by letting the cameras capture her bareback in the surreal black gown. The gown's back design also gave a hint of her booty while she made her way into the event. While there was no hint of clothing on her back, Miley accessorized her bare back with a thin golden waist chain.
If that much skin wasn't enough, the gown featured a plunging neckline, all the way down to her waist, giving a good look at her assets. Miley oozed confidence while risking an embarrassing wardrobe malfunction.
Miley donned several cross-shaped pieces of jewelry with the theme of the Gala this year. She wore cross-shaped chains, earrings and rings to go with her black gown.
A dateless Disney alum walked the red carpet with Paris Jackson and Stella McCartney. Before turning heads with her look this year, Miley shared pictures from her previous appearances at the Met.
Miley was undoubtedly one of the most elegantly dressed celebrities at the Met Gala this year. Also, the Met Gala 2018 host Rihanna, singer Katy Perry, Gossip Girl alum Blake Lively and Quantico star Priyanka Chopra were few of the best dressed celebrities of the night.