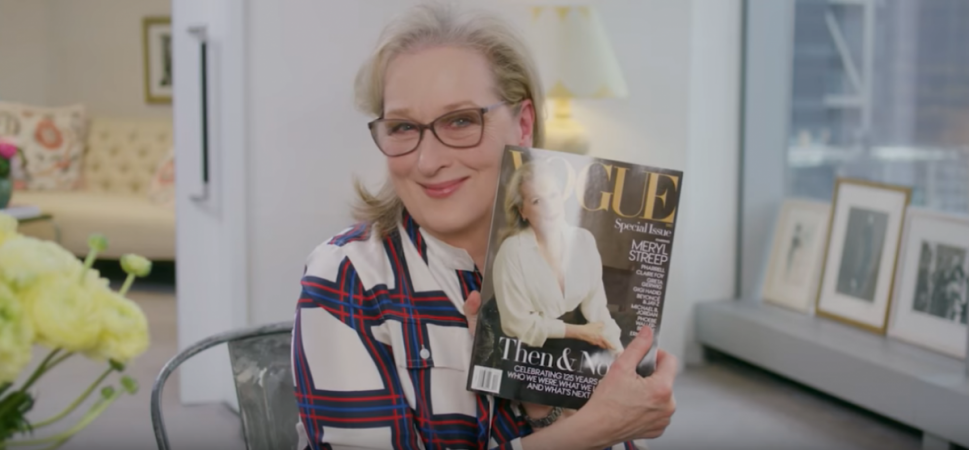 Meryl Streep has gone ahead and done the most Meryl Streep thing anybody could ever dream off – once again. And while it's not another Academy Award, it's a surprising honour nevertheless.
In the 2006 movie, The Devil Wears Prada, Meryl had played the iconic role of Miranda Priestly – a fictional version of the real life Anna Wintour, the editor in chief of Vogue.
Also read: Meryl Streep goes viral on Twitter as an old picture of the actress gets the meme treatment!
And now, 11 years later, Meryl has graced the cover page of Vogue. That isn't all, the appearance on cover page comes with an exclusive interview by Wintour herself, so basically, Meryl just got interviewed by a character she played a decade ago. No big deal, just-Meryl-Streep-things.
Over the recent years, Vogue has only portrayed faces of models fresh in their 20's and could never even fathom the idea of putting a woman over 60 on their cover, which is exactly why this comes as an even bigger surprise. Looks like there's nothing Meryl Streep can do.
The special December edition showcases the 68-year-old actress because she is also playing the role of the late Katherine Graham, publisher of The Washington Post in Steven Spielberg's upcoming movie, The Post.
The video for the interview has been released online and it's comical yet interesting to see Meryl facing a character she has played, in flesh and blood. And that too after the 2006 portrayal of Wintour was nothing short of a cold, manipulative dictator of taste., also referred to as the "Dragon Lady."
Yet the casual interview doesn't restrict itself to just fashion as Meryl shares how at dinner, all she and her daughters talk about is Harvey Weinstein. "It's horrible," she said when asked what she and her family discuss around the dinner table.
"We want them to be free, we want them to be proud, and we want them to be female. You put them in danger by not informing them about the male gaze and how it works on young girls," adds Meryl, who has spoken out about how disgraceful the scandal ever since it broke out.
Anna Wintour herself puts on the big journalistic boots and then proceeds to ask Meryl if the scandals are an advancement or a setback to feminism, to which Meryl goes with the former, without the slightest hint of hesitation in her tone.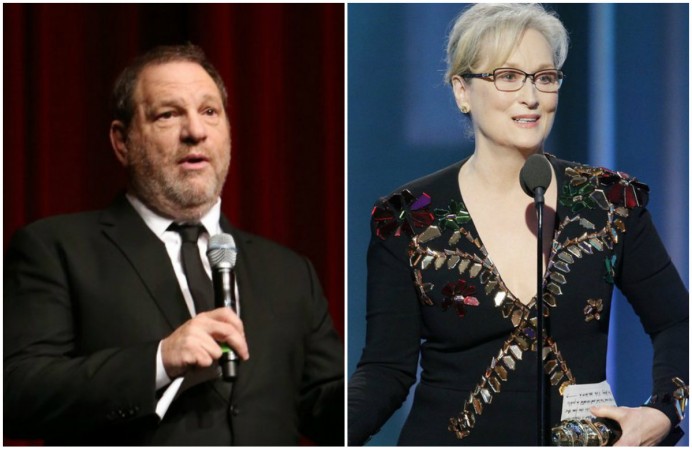 "This moment is absolutely thrilling," she said. "This is a door that will not be closed, we've got our foot in their now. It'll be very difficult to conduct their lives the way they have in the past."
Meryl also mentions how she expects the upcoming awards season to be more "aware" with the current scenario in mind. "I think it might lead to the moment where, at least in my business, where people walk into a room and they see three women and nine men and they think there's something wrong. That it's off."
Specifically, with respect to the Weinstein scandal, the veteran actress said, "The behaviour is inexcusable, but the abuse of power - familiar. Each brave voice that is raised, heard and credited by our watchdog media will ultimately change the game."