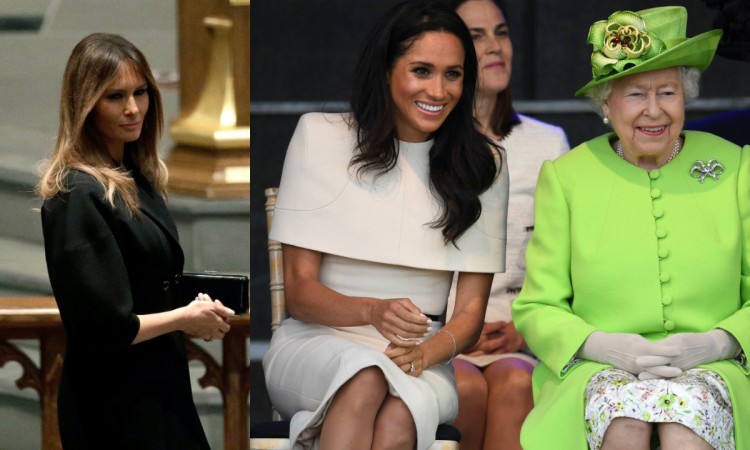 Like several other US Presidents and the First Ladies in the past, Donald Trump and Melania Trump will also join the long list of US politicians to visit Queen Elizabeth II. The meeting is set to take place next week and the first couple of the US are excited.
According to a US representative, the First Lady's is looking forward to meeting the Queen during her four-day trip to the UK. She will meet the royal family member at a place special to newly married Meghan Markle.
The FLOTUS is set to meet the British monarch at Windsor Castle. It is the same venue where the Duchess of Sussex married Prince Harry, Duke of Sussex on May 19. The couple tied the knot at the St. George's Chapel in the Castle. The royal wedding did not host political leaders hence Melania couldn't be a part of the ceremony.
US Ambassador Robert Johnson said that the visit will be a "highlight" of the Trump visit, Express UK reported. "A highlight of any President's visit to the U.K. [is when] the President and First Lady will travel to Windsor Castle to meet Her Majesty the Queen. As head of state, Her Majesty has met every U.S. president since 1952 (amazing) – with only one exception and that's Lyndon B. Johnson. I know the President and First Lady are really looking forward to meeting her," he said.
While Melania may have the chance to see where Meghan and Harry married, they US couple will not follow the Obamas steps into the Buckingham Palace. When Barack Obama visited the UK during his presidential period, he visited the Palace with a military welcome.
The possible reason for skipping the Buckingham Palace visit could be because President Trump is trying to avoid London during his four-day trip given the protest against him in the city, Downing Street said.
During the Trump visit, the POTUS will visit UK Prime Minister Theresa May while her husband Philip will be escorting Melania.