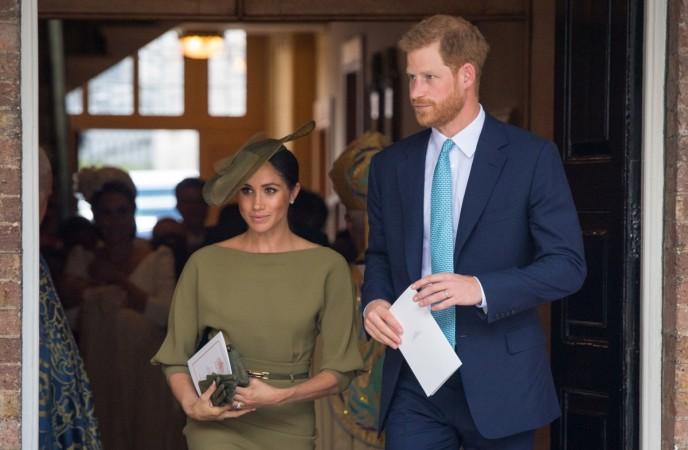 The British royal family witnessed another important day on Monday when the youngest member of the family, Prince Louis was baptised at the Chapel Royal in St James's Palace, London. The special day was attended by all the close family members and the senior-ranking royals.
Meghan Markle, who recently married Prince Harry, attended the christening ceremony in an olive Ralph Lauren dress with matching clutch bag, Stephen Jones hat, and Manolo Blahnik suede shoes. The Duchess of Sussex was also spotted carrying a pair of olive green gloves to Prince Louis' christening.
ALSO READ: Prince William, Kate Middleton spotted together with all their babies for the first time
This gesture of Markle gave rise to several rumours as the weather was not such that the 36-year-old would require a glove for the ceremony. There are speculations that may be the Duchess of Sussex is following the footsteps of Queen Elizabeth II, who always wears gloves to public engagements, be it personal or official.
Each pair of the monarch's gloves are custom-made by Cornelia James. The Queen wears it if she is shaking hands with people so that it can protect her from any sort of dirt or damage. But, Kate Middleton is one such royal who rarely wears gloves unless winter.
On Christmas Day, when Markle joined the British royal family at Sandringham, she was last seen wearing a pair of gloves. Ever since then, she was never spotted with gloves until Monday.
Prince William and Kate Middleton invited Prince Harry and Meghan Markle merely as guests and not as their child's godparents. Apart from them, the 45-minutes-long christening ceremony of Prince Louis was also attended by Middleton's parents and sister. The six godparents of Prince Louis including Guy Pelly, Nicholas van Cutsem, Lady Laura Meade, Harry Aubrey-Fletcher, Robert Carter and Lucy Middleton also graced the ceremony.
ALSO READ: Suits Season 8 to premiere soon on Netflix UK
According to Express report, Prince Harry gifted the 11-week-old prince an original copy of AA Milne's book Winnie the Pooh that was priced at $10,000. The choice of giving a book was inspired by Prince Harry's mother, Princess Diana. She used to read him storybooks in his childhood days.
"He originally wanted to get Lewis Carroll's Through The Looking Glass, which was on sale for £24,000, but decided Winnie-The-Pooh would be more suitable for a first time," an insider told Express.