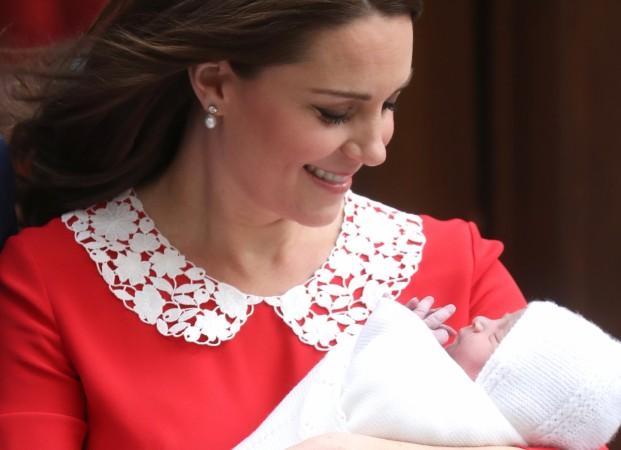 Proud grandparents Queen Elizabeth and Prince Philip have skipped the royal christening ceremony of Prince William and Kate Middleton's third child, Prince Louis. The palace announced that due to Queen's busy schedules and back-to-back visit, she has decided to give it a miss. Other members of the royal family including Prince Charles with wife Camilla Parker, Prince Harry with wife Meghan Markle took part in the ceremony.
According to the palace source, the Queen had a hectic schedule last week and has three important events scheduled for the week— the 100th birthday of the Royal Air Force, aircraft show over Buckingham Palace and President Donald Trump's visit at Windsor Castle. Last week, the Queen also cancelled a few appointments following her ill health. However, the palace officials have confirmed that the monarch's health is in good form and there is no cause for concern.
The Duke and Duchess of Cambridge have chosen two hymns, two lessons and two anthems for the christening of their son, Prince Louis: https://t.co/S5gVhCBHC6

— Kensington Palace (@KensingtonRoyal) July 9, 2018
The Duke and Duchess of Cambridge also made an emotional tribute to Diana by playing the song 'Rhosymedre' (similar to the hymn played at Diana's funeral) during the procession. After the ceremony, a private tea party was hosted at the Clarence House where Kate and William's wedding cake were served. Clad in a cream-coloured Alexander McQueen dress, Kate's white floral headpiece—designed by Jane Taylor—has truly amused the fans.
The royal ceremony took place at The Chapel Royal, St James's Palace—the same place where Meghan underwent a secret baptism (according to the royal protocol) just three months before the royal wedding.
Interestingly, Prince George's ceremony also held at the same church while Charlotte was christened at Sandringham's St. Mary Magdalene church in Norfolk—where her late grandmother Princess Diana was christened.
Louis' ceremony was presided over by the Archbishop of Canterbury, the Most Reverend Justin Welby, who also officiated for baptism ceremonies of Prince George in October 2013 and Princess Charlotte in July 2015.