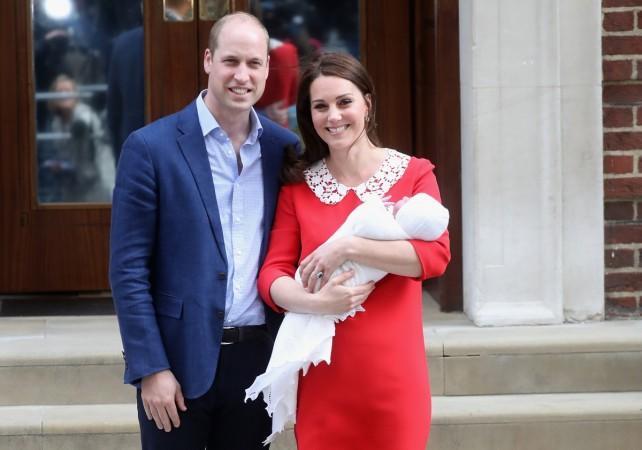 Prince William and Kate Middleton announced the christening ceremony of their 8-week-old Prince Louis on Wednesday. The event will be held at The Chapel Royal, St James's Palace, London on July 9.
The Duke and Duchess of Cambridge are pleased to announce that the christening of Prince Louis will take place on Monday 9th July at The Chapel Royal, St James's Palace, London.

Prince Louis will be christened by The Archbishop of Canterbury, the Most Reverend Justin Welby. pic.twitter.com/aBGNYTMRri

— Kensington Palace (@KensingtonRoyal) June 20, 2018
Interestingly, Prince George's ceremony also held at the same church while Charlotte was christened at Sandringham's St. Mary Magdalene church in Norfolk—where her late grandmother Princess Diana was christened. An official statement from the Kensington Palace stated that Louis' ceremony will be presided by the Archbishop of Canterbury, the Most Reverend Justin Welby, who also officiated Prince George in October 2013 and Princess Charlotte in July 2015.
Well, that looks simple and clear. However, there is a secret connect between Louis' christening and Meghan's baptism. When Harry and Meghan decided to take their relationship to next step, the Suit actress underwent a secret baptism (according to the royal protocol) at the same venue—The Chapel Royal. The ceremony took three months ago and now it looks like Louis is following his aunt.
Meghan's baptism was considered as a necessary pre-condition to marry Harry. A report on Express UK stated, "The Suits actress did not need to become Anglican to marry Harry at St George's Chapel, Windsor, but it is understood the decision was a mark of respect to the Queen, who is head of the Church of England."
Well, that looks like the monarch has a slew of complicated protocols for its members. Meanwhile, on the other hand, Harry and Meghan are getting ready for their first international visit—Dublin in July. According to Kensington Palace, the couple will travel to the neighbouring country between July 11-12. A tweet from the palace's official handle stated, "They are looking forward to learning more about Ireland's history and experiencing its rich culture as well as meeting the people who are shaping the country's future."