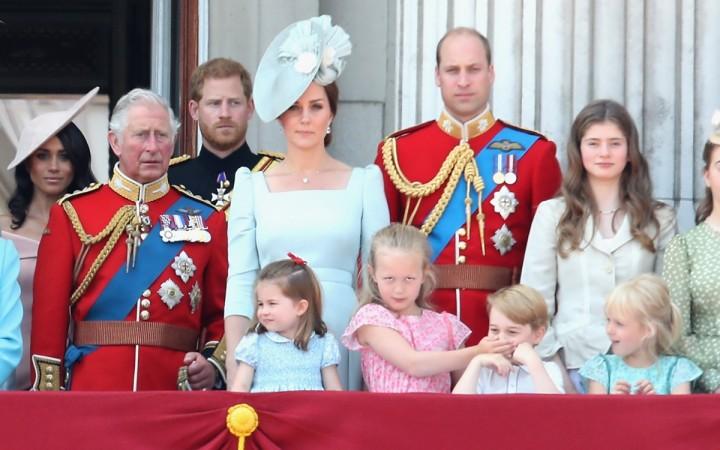 He might be the future king, but Prince George was just another talkative cousin who had to be shushed to Savannah Phillips. The Queen's seven-year-old great-granddaughter stole the limelight at Trooping the Colour 2018 celebrations on Saturday, when she silenced Prince William and Kate Middleton's firstborn.
Although eyes were set on newly married Prince Harry and Meghan Markle as they made their first appearance as a married couple, Savannah's shushing George at the annual event was one of the highlights of the day and boy, it was so relatable.
But who is Savannah Phillips?
The girl in pink who shushed George at the event is the Queen's eldest great-grandchild, and Princess Anne's first grandchild, Harper Bazaar reported. She is the daughter of Peter Phillips and Canadian-born wife Autumn Kelly. Savannah was born in December 2010 and was 12th in line for the throne.
However, after the birth of William and Kate's children – Prince George, Princess Charlotte and Prince Louis – she now stands 15th in line. Thanks to her dual citizenship, she is the first Canadian citizen to be in the line of succession to the throne. She has a younger sister, Isla, who is six-years-old.
While the cousins were having fun, Kate averted a horrific incident. Princess Charlotte, who was standing on the Buckingham Palace balcony with the rest of her family, accidentally slipped but Kate's immediate reflexes held her back from falling.
Some viewers say that the young princess might have hit her head on the railing. Princess Charlotte of Cambridge was visibly upset and Kate quickly comforted her. She was fine soon.
Check out the video here:
Princess Charlotte was falling down and banged her little face on the balcony ?
Catherine has quickly taken her daughter up and comforted her! It's just a confirmation how great she is as a mum and how solicitous she is in general ❤️ pic.twitter.com/t7jl5GRWEc

— The Cambridge Family (@the5cambridges) June 9, 2018