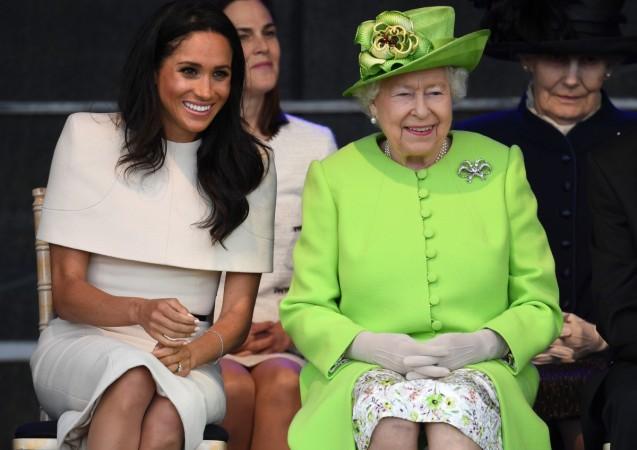 Meghan Markle has been adapting to the British customaries and etiquettes one step at a time. With time, it appears that the former television actress has picked up a little British accent as well.
A new video is making the rounds online featuring the new royal speaking in a slight Brit tone. The video was taken when Meghan was on an official tour with the Queen last month in Cheshire but it is now going only viral.
The Duchess of Sussex, was dressed in a Givenchy dressed, was speaking to a local fan named Aya. Several other royal fans were gathered around to catch a glimpse of the newlywed royal. In the video, Meghan is heard saying, "Thank you, I appreciate that, that's so kind," to the person beside Aya.
The video has got everyone talking with many expressing their shock over her quick change, while a few think Meghan is faking it.
"Surrounded by British accents it happens easily," wrote an internet user. "I don't understand why it's a big deal if Meghan Markle develops a British accent. 1. She's married to one. 2. She's an actress and has probably taken lessons in accents. And 3. It's a subconscious form of empathy," added another.
"Meghan Markle is a lil phony for that fake British accent coming through," a social media user wrote, adding, "But if I became British royalty you'd see me day 2 saying pip pip cheerio."
"Meghan Markle's got a case of the Madonna! She's now speaking with a British accent! It happens! Have you heard Lindsay Lohan talk lately?" said another user.
However, Prince Harry seems to find it adorable. A source told Hollywood Life that the Duke of Sussex is liking her new speaking style. "Harry finds it absolutely adorable, but then, Harry finds absolutely everything Meghan says and does, absolutely adorable," the source said.
The insider also added that Meghan is adapting to the UK English vocabulary. "Meghan's also starting to use British vocabulary instead of American a lot of the time too. So, she will say 'biscuits' instead of 'cookies' and 'sweets' instead of 'candy,'" the insider shared.
Do you hear the British accent? Check the video below and let us know in the comments:
Meanwhile, it is possible that Meghan could have caught on to the British accent considering the amount of time she's spent in the UK and the number of Brits she's surrounded by. Soon after the Suits star was engaged to Prince Harry, she was seen spending most of her time in the UK which would have given her ample time to pick up on the accent.
To add to it, she's also an actress who is trained to pick up a new role or adapt to a culture quickly.