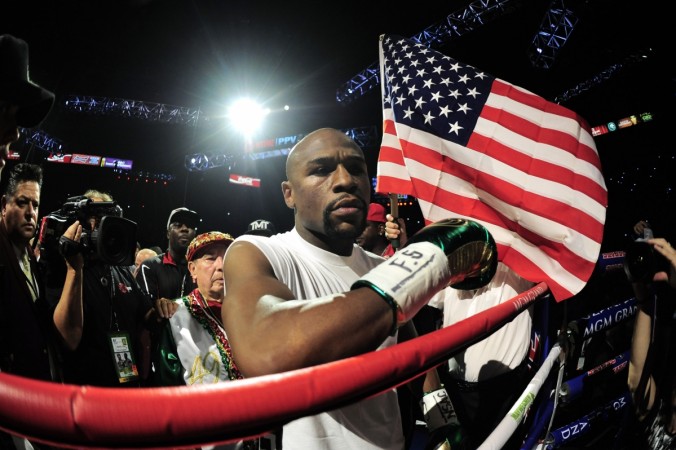 UFC Featherweight champion Conor McGregor and pro boxing veteran Floyd Mayweather Jr are ready to take on each other and their intentions have been heard all around the world. However, now that the fighters are ready, the big question remains: Who is going to promote the fight, or more importantly, is the fight going to be inside the octagon or the ring?
The war of words between the two decorated combat athletes started way back last year. On Saturday, ahead of the highly-anticipated WBC Middleweight title bout between the champion Canelo Alvarez and Amir Khan in Las Vegas, Mayweather, who was present in the audience, stated his intentions to take on McGregor.
"It's possible you know [the fight between McGregor and him]," Mayweather, who equals Rocky Marciano's record of being 49-0 in the boxing ring, was quoted as saying by Fox Sports. "It was a name that was shot at me but the rumour that ya'll been hearing — the rumours that I started — may not be a rumour, so keep your fingers crossed."
"It may be a boxer versus an MMA fighter."
Mayweather retired last year from his pro boxing career after defeating Andre Berto last September. Since then, there were speculations that the 39-year-old would return to the ring for the one last time to take on Manny Pacquiao in a highly-anticipated 'Fight of the Century' rematch.
Pacquiao did call quits on his pro boxing career after getting a win over Timothy Bradley in April this year, the rumours of a rematch between Mayweather and Pacquiao didn't die a bit. However, for now, with the recent developments taking place thick and fast, a blockbuster showdown between McGregor and Mayweather could just be on the cards.
McGregor, whose name was pulled off from the UFC 200 fight card for not appearing in the UFC's promotional events, took to twitter once again to post a photoshopped picture of the Irishman involved in a staredown with the American pro boxer.