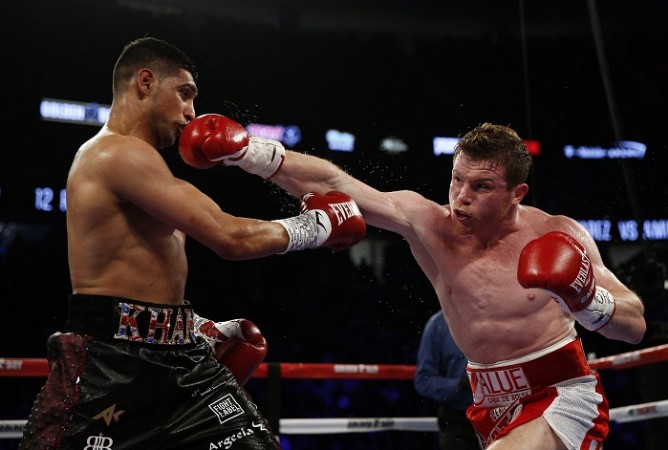 Canelo Alvarez retained his WBC middleweight title, defeating Amir Khan at T-Mobile Arena in Las Vegas. The Mexican knocked out Khan in the sixth round of the bout with a vicious right hand to the face.
Though Alvarez was a huge favourite, Khan started the bout brilliantly, attacking the champion from the first minute. The much-talked-about fast hands and quick movement of Khan troubled the Mexican, who did sustain some blows in the first round.
The next two rounds of the bout also belonged to Khan, who was much more aggressive than Alvarez. Despite the Mexican's attempt to unleash his powerful blows, Khan had a huge say in the bout, with a flurry of punches.
As the bout progressed, Alvarez, the patient fighter he is, came back into the fight gradually, and was trying to land some body blows, even connected few. Khan showed some great defence to keep out Alvarez's punches.
But, Alvarez was looking strong, and it was the sixth round of the bout that saw the champion knock the boxer off his feet. It was brutal finish from Alvarez.
Despite the victory, one needs to applaud Khan, who moved up two weight divisions to take up the challenge to fight Alvarez. It was by no means an easy fight for Alvarez, who did face some music from Khan as the British boxer troubled him with speed and movement.
Prior to the fight, it was said that the bout would be decided by Khan's speed and Alvarez's power. The latter proved to be too strong in the fight, which helped him emerge victorious.
With this victory, Alvarez has set up a date with Gennady Golovkin for the title, and the Mexican has to step up his game against the Kazakh boxer, who is one of the most dominant pugilists in the world at present.