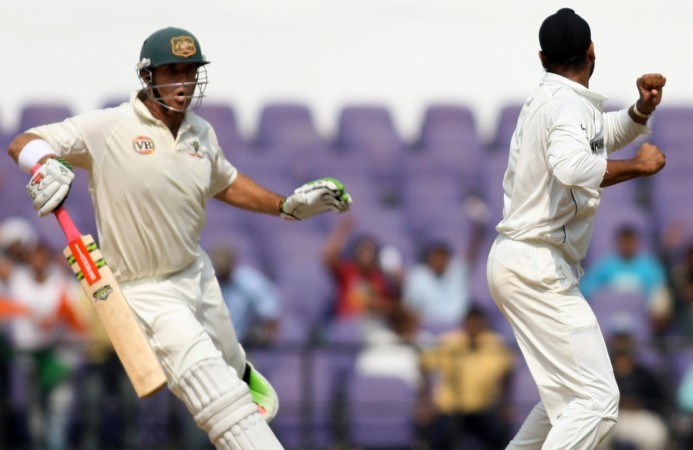 Former Australian opener Matthew Hayden has revealed the toughest bowlers he faced in international cricket and also picked the best batsmen of his era.
The 46-year-old, who was recently in Bengaluru to commentate on India-Afghanistan Test, told International Business Times, India that West Indies' Curtly Ambrose and Harbhajan Singh of India were the "toughest" bowlers he faced.
"My toughest bowler was (pause for a while) probably Curtly Ambrose. He was a magnificent bowler, fast, accurate and relentless from ball one. He gave you nothing to hit. He bowled one line, one length," Hayden said.
He added, "Among Indian players, I have had wonderful battles with Harbhajan (Singh). He did solid, emotional battles. So, those two players (Ambrose and Harbhajan) were tough."
When asked about the best batsmen he played with and against, he chose Ricky Ponting and Brian Lara.
"The best batsman I played with was Ricky Ponting. And against, it was Brian Lara, for obvious reasons," he opined.
Punishment for Smith, Warner too harsh: Hayden
Talking about bans for Steve Smith and David Warner in the ball-tampering scandal, Hayden felt the punishment was "too harsh". He backed the duo to bounce back strongly.
"They (Smith and Warner) will bounce back. The great thing about Australian public is that they are extremely forgiving. They are also harsh critics of poor behaviour in sport. The sport in Australia is revered. For a population of 25 million, it is one thing we do well across multiple codes, including the Olympics, Commonwealth Games, etc. It is very proud sporting culture and when its members, not just Steven (Smith) and David (Warner), when they let the game down, we don't like it and dealt with accordingly. Their punishments were incredibly harsh, too harsh I feel," Hayden said.
"Having said that, they have done the wrong thing and they have to do their time. Australian cricket and the public will accept that Steven and David come back into the set-up," he added.
Smith and Warner were banned for one year by Cricket Australia (CA) for their role in a ball-tampering row during South Africa Test series in March.