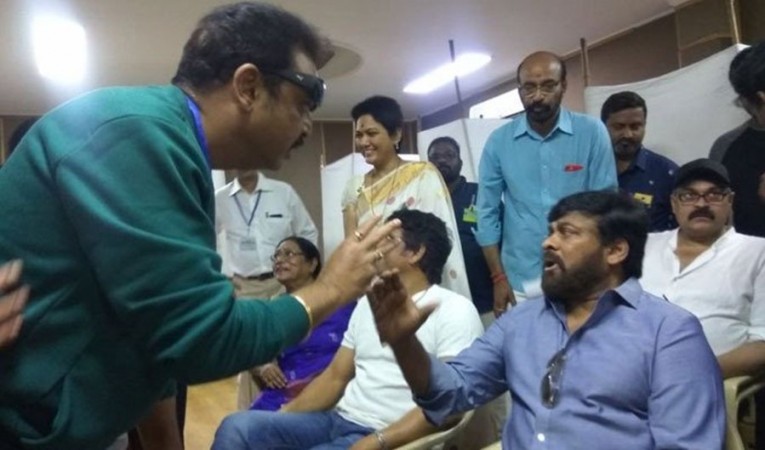 Actor Naresh's panel has won the Movie Artistes Association (MAA) elections 2019 and the reason being cited is that it was supported by popular actors like Chiranjeevi, Nagarjuna and Mahesh Babu, among others.
Sivaji is contesting elections for the post of MAA president, while Meka Srikanth, SV Krishna Reddy, Benerjee, Rabhu Babu, Parachuri Venkateshwara Rao, Brahmaji Naginedu are in race for the posts like Vice President, General Secretary, Treasurer, Joint Secretary. On the other hand, Naresh is in the race for the association President's post and Siva Balaji and other celebs have contested for the remaining key posts.
MAA elections 2019 have seen both Naresh and Sivaji Raja panels trying their best to seek support from Tollywood bigwigs and promised many things to attract voters. This neck to neck competition appeared as if both the groups are contesting Legislative Assembly elections.
The polling for MAA elections 2019 was held on Sunday, March 10 and 472 celebs cast their votes in the election. It is the highest number of votes in the history of MAA elections. The counting took place on Sunday evening and the results were announced on Monday morning. Here is the new committee of 2019:
President – Actor Naresh
Executive Vice President – Actor Rajasekhar
Vice Presidents – Hema and SV Krishna Reddy
General Secretary – Jeevitha Rajashekar
Joint Secretaries – Gowtham Raju and Actor Sivabalaji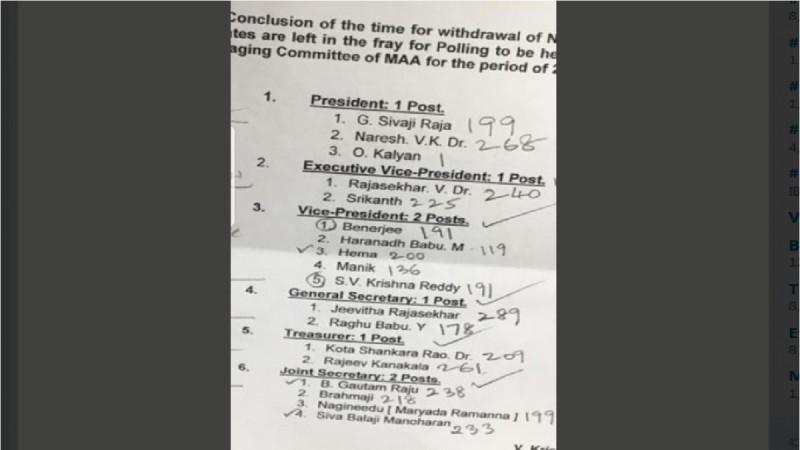 It was said that Naresh panel was able to beat Sivaji Raja group in this MAA elections as most of the bigwigs from the Telugu film industry came forward in support of his team for two reasons -- firstly, Sivaji Raja was the president of MAA for the last term and these biggies feel that he should have given the chance to others this time.
Along with his brother Chiranjeevi, Nagababu has also extended his support to senior actor Naresh and his panel. "The MAA President's position should be held by a person for only one term. Every aspirant should get an opportunity. I have decided to lend my support to Naresh and Rajasekhar. Even if it's me, I wouldn't go for a second term," the Jabardasth judge told a movie portal.
The MAA created headlines in national media when Sri Reddy started her protest against the casting couch and sexual exploitation in the Telugu film industry. MAA president Sivaji Raja was seen as not able to handle the situation properly. Instead of giving her justice, he rejected her application for the membership in the association. Many seniors were upset with his decision, which had tarnished the image of MAA further.
Nagababu said, "As the MAA's General Secretary, Naresh did a very good job in his last term. This is also a reason I am supporting him this time. I was disappointed with the last term's office-bearers. Everybody and anybody would talk about the MAA as they liked and this office couldn't do anything. I was disappointed with their performance. Naresh and Jeevitha garu came forward to speak for MAA."