The death of DMK Chief and Tamil Nadu politics Stalwart M Karunanidhi has left a void in Tamil Nadu politics and it would not be an exaggeration to say that it's an end of an era. His death has given way to a fresh controversy as the Tamil Nadu government has denied DMK's request to allot space for his burial near party founder CN Annadurai's memorial at Chennai's famous Marina Beach.
Controversies have always been a part of the Tamil leader who never lost an election in his political career that spanned over 6 decades. Here are ten controversies that surrounded M Karunanidhi during his political career.
1. PROMOTER OF NEPOTISM
The DMK chief was accused of promoting nepotism by his opponents and political analysts. Senior members of his party and political opponents targeted him over the sudden rise of his son MK Stalin in the party. Karunanidhi was accused of starting a political dynasty on the lines of the Nehru-Gandhi clan. His daughter Kanimozhi also became a Member of the Parliament representing Tamil Nadu in the house. The late politician was also accused of helping Kalanidhi Maran, the son of Murasoli Maran and owner of India's second largest television network Sun TV, which has often been termed as a mouthpiece of the DMK.
2. CONNECTION WITH LTTE
In April 2009, the late DMK chief found himself engulfed by another controversy when he said that he did not see Velupillai Prabhakaran, the chief of Liberation Tigers of Tamil Eelam (LTTE) as a terrorist in an interview given to NDTV. "No, I don't. Some people involved in Prabhakran's group may be involved in terrorism. But that is not Prabhakaran's fault," he had said about the prime accused in the assasination of former Prime Minister Rajiv Gandhi. Karunanidhi even went to the extent of terming the LTTE's goals as legitimate and genuine.
3. QUESTIONING THE EXISTENCE OF LORD RAMA
Karunanidhi, who was known for his rational views, in 2007, landed himself in a massive controversy with his remarks over Lord Rama. Speaking in regards to the Sethusamudram project, the leader had questioned the existence of the Hindu God. "Some say there was a person over 1.7 million years ago. His name was Rama. Do not touch the bridge (Ramar Sethu) constructed by him. Who is this Rama? From which engineering college did he graduate? Is there any proof for this?," he had said. He drew flak from the BJP and other right wing organisations over his controversial remarks.
4. CALLING HINDU "THIEFS"
Kalaignar, as he was popularly known as in Tamil Nadu made headlines in October 2002 with his statement about Hindus. Newspapers back then had carried his remarks where he observed that the term Hindu meant thief. After critcism poured in from all corners, the late politician recapitulated his interpretation and justifed his statement by quoting the Hindi Vishwa Kosh.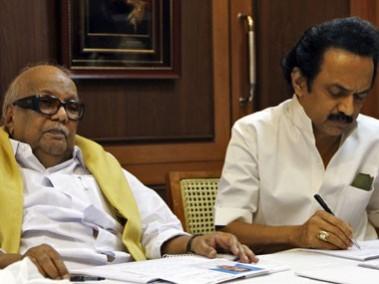 5. CHENNAI FLYOVER CORRUPTION
Karunanidhi was arrested from his home in 2001 by the State Crime Branch Criminal Investigation Department over alleged corruption charges in the construction of ten flyovers in and around the Tamil Nadu capital. His sudden arrest had created quite a furore in the political circuits of the Southern state. His son and the then Mayor of the Corporation of Chennai MK Stalin was also arrested. The arrests of the father-son duo had come after a complaint filed by Corporation Commissioner JT Acharyalu in which he mentioned that they were responsible for violations of administrative rules and procedures and corrupt practices in the over 100 crore project.
6. AGAINST IMPOSITION OF HINDI
In June 2014, the DMK leader asked Prime Minister Narendra Modi to focus on economic growth and social development rather than stressing on the need to impose Hindi language on public officials. The PM had asked officials to give the use of Hindi a priority on their social media accounts. "Giving priority to Hindi will be construed as a first step towards attempt at creating differences among non-Hindi speaking people and making them second class citizen," Karunanidhi, whose party was also responsible for spearheading the anti-Hindi agitation in the 60s, said.
7. IN SUPPORT OF VISHWAROOPAM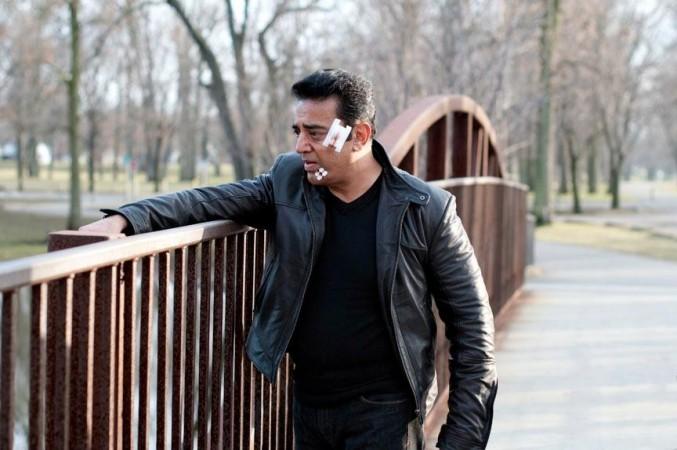 When Kamal Hassan's 2013 movie Vishwaroopam landed in a controversy over hurting the religious sentiments of Muslims, M Karunanidhi came in support of the film. He urged Islamic organisations to have a democratic dialogue with the makers of the movie to resolve the issue. "I know Kamal and Rajinikanth won't hurt the feelings of any religion. Even I don't tolerate anything that is against Muslims. I urge them to hold talks with Kamal Haasan. Also, the state government should cooperate in maintaining law and order," the DMK chief had said, in a press statement.
8. CORRUPTION CHARGES & STANCE AGAINST EMERGENCY
The Sakaria commission, in 2001, formally accused Karunanidhi for corruption in the allotment of tenders in the Veeranam project. The commission was set up in the 1976 after Karunanidhi's government was dissolved by the Central government on charges of corruption and misuse of power. The late DMK chief also garnered national attention in 1975 after he strongly opposed the Indira Gandhi ruled government on imposing Emergency. His stance against the central government's draconian orders resulted in his government being dissolved over charges of corruption. His party was also accused of corruption charges in the infamous 2G Spectrum case.