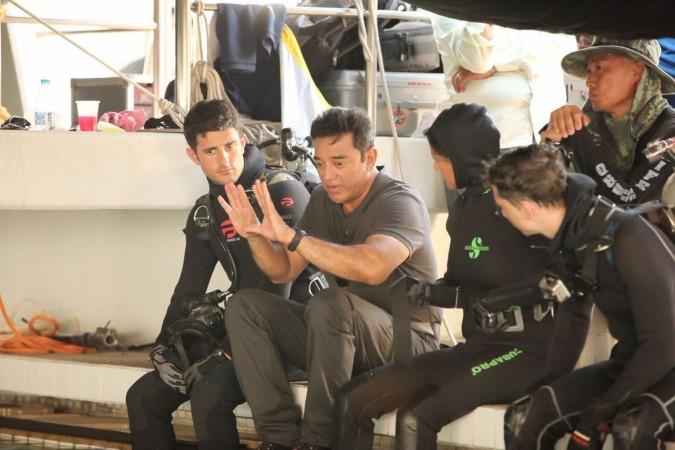 Kamal Haasan's Vishwaroopam 2, which was supposed to be released this Friday, August 10, is rumoured to have been postponed following the death of DMK patriarch M Karunanidhi. The multilingual movie, which was already caught in a legal tussle, will be reportedly be released on a later date.
As per Tamil media, the exhibitors have cancelled the shows for Wednesday, August 8, and there are high chances of theatres remaining shut for the next few days. Kamal Haasan shared a great relationship with Kalaignar and it might postpone the release of Vishwaroopam 2, say industry observers.
"It seems to be a not right time for the release of a big movie as the state is mourning the death of its beloved leader. With the state government announcing 7-day mourning, the public mood is expected to be low," a source from the industry tells International Business Times.
Five-time Tamil Nadu Chief Minister M Karunanidhi passed away on Tuesday at 6.10 pm at Kauvery Hospital in Chennai. "Despite the best possible efforts by our team of doctors and nurses to resuscitate him, he failed to respond. We profoundly mourn the loss of one of the tallest leaders of India and we share the grief of family members and fellow Tamilians worldwide," the press release from the hospital said.
Vishwaroopam 2 was scheduled to be released in over 2,000 screens worldwide in three languages – Tamil, Telugu and Hindi. However, the release of the multilingual flick was already in trouble as Production Pyramid Saimira has approached the court, seeking a stay on the film's release until Kamal Haasan clears the money that he had taken to revive his long-pending project Marma Yogi.
The movie is written and directed by Kamal Haasan himself. It is a circumquel --both prequel and sequel -- to the actor's 2013 controversial film Vishwaroopam.