India and Russia are expected to sign a deal worth $1.1-billion for new medium-lift helicopters which are to be used by both the defence and home ministry. The deal is related to the order of 48 additional Mi-17 V5 choppers requested by the Indian Airforce which has been in discussion since 2015.
Vladimir Putin is scheduled to visit India in October for an upcoming bilateral summit between the two countries. The deal is likely to be signed during the Russian president's visit to New Delhi for the same, according to Economic Times.
The Mi-17 choppers have been one of most crucial heliborne transport fleet which played its active role in the many defence roles and rescue operations. Its performance over the years has set such high standards that it is being extensively used by the defence as well as home ministry.
The chopper has made a mark in troop support missions in the hilly terrain of Kashmir as well as in the dense forest in the Naxal areas. The helicopter is also utilised by the home ministry to ferry its VVIPs.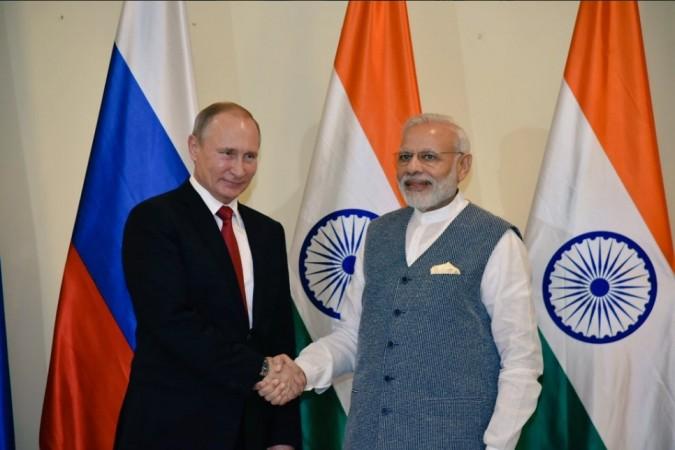 The Indian side has been deliberating aggressive price negotiations which have borne fruits in terms of cost per unit. The cost of 48 additional choppers is on par with the past purchases of 151 choppers by India. The Ministry of Defence is trying to finalise the deal as soon as possible.
The first order for the Mi-17s V5s was placed by back in 2008 when the Indian Air Force had requested 80 units of the chopper to replace the ageing fleet Mi8 fleet.
The move is expected to irk the US administration which has been persuading India to enhance its defence cooperation with US-based companies.
The Indian Airforce had to carry out certain modification in these six choppers and a dedicated squadron was formed in 2015 to facilitate flights for VVIPs. The development came against the backdrop of a corruption scandal related to AgustaWestland AW 101. The Indian government cancelled the deal in 2014 over the allegations of the involvement of middlemen in influencing the top officials.