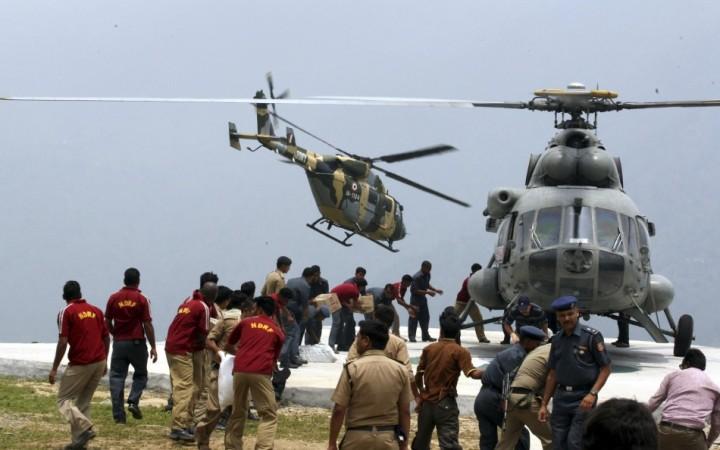 An Indian Air Force (IAF) rescue helicopter carrying military personnel crashed in Uttarakhand on Tuesday killing all 20 on board.
The Mi-17 V5 IAF chopper which included five Air Force personnel and 15 other National Disaster Response Force (NDRF) and Indo-Tibetan Border Force (ITBF) crashed while landing in a temporary air-base in Gaucher. Until Wednesday morning, 12 bodies have been recovered from the chopper so far.
The exact cause of the chopper crash is yet to be determined. Mechanical failure has been ruled out since there was no distress call reported before the incident took place. Bad weather and lower visibility are gauged as possible reasons.
The elite Guard commandos have been working non-stop to recover the bodies from the crash site.
Post the incident, IAF Chief NAK Browne reached Uttarakhand to uplift the spirit of those working under terse conditions to rescue the flood-affected victims.
"Our rotors will not stop churning. That means, we will continue with the job till get the people out. "We will sustain the mission and continue to keep the morale (of our personnel) high," said Browne, reported Press Trust of India.
An IAF spokesperson stated that an inquiry has been ordered to gauge the exact cause of the chopper's breakdown.
In the wake of Tuesday's tragedy, Prime Minister Manmohan Singh offered his condolences saying, "This accident during relief operations has come as a huge shock to me. My heart goes out to the families of those who have lost their lives. The nation mourns with me the loss of our heroes whose selfless work has saved thousands of lives."
The Mi-17 is the second chopper to crash during the rescue operations after a private chopper also involved in the rescue mission crashed in the same area the week before. However, no casualties were reported and the pilot had escaped unhurt.