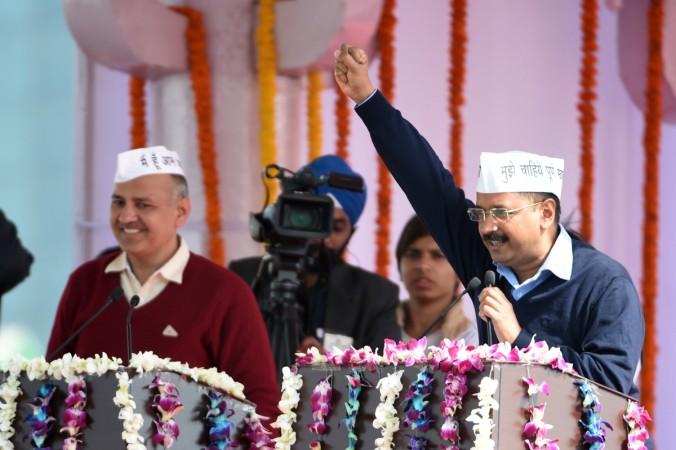 The third day of the sit-in protest by Delhi Chief Minister Arvind Kejriwal and his cabinet colleagues has now turned into a hunger strike after the Lt. Governor refused to accept their demands.
Cabinet Ministers Satyendar Jain, Gopal Rai and Manish Sisodia along with CM Kejriwal have been sitting at the Raj Niwas, the official accommodation-cum-office of Lt. Governor Anil Baijal, since Monday.
The Delhi Chief Minister said he and his colleagues would not leave Baijal's office until their demands were met.
On Wednesday morning, Kejriwal tweeted that his "struggle" was on. "Good Morning to all Delhites. The struggle is on to remove all the hurdles before the developmental works of Delhi. Our willpower is our strength," he said.
Sisodia in a tweet said it was their third day at the Lt. Governer's office and "he did not have time to order the IAS officers to end their strike... This shows that the strike is being held on LG's order".
"To ensure the rights of the Delhites and to re-start their work, I am going on an indefinite hunger strike. Our willpower and the trust of people is our strength," Sisodia tweeted.
All the four ministers were active on social media with tweets and re-tweets. All MLAs and Aam Aadmi Party (AAP) workers will gather at the Chief Minister's residence at 4 p.m on Wednesday. The AAP leaders also exhorted the common people through video messages to join the protest march.
The police have already beefed up security outside Raj Niwas, with paramilitary and police personnel deployed in a 2 km radius of the Lt. Governor's office.
Yesterday, the Raj Niwas responded by calling the sit-in a 'dharna without reason' after it was found that no IAS officers were on strike but working as normal. Kejriwal has accused IAS officers in Delhi of going on strike and wants the LG to take action against them.
The Delhi CM also wants the LG to allow doorstep delivery of ration, Baijal has responded by stating that the matter is lying with the Minister of Civil Supplies and he no longer has control over it.
[ With inputs from IANS]