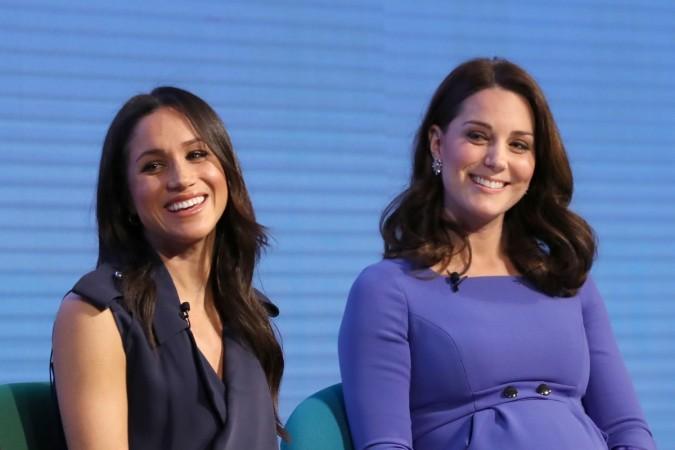 Prince Harry and Meghan Markle are set to get married on May 19.
Although Meghan Markle's bridesmaid and maid of honor is still kept under the wraps, it is highly speculated that her best friend Lindsay Jill Roth could play the maid of honor.
Former Suits actress Meghan Markle is set to walk down the aisle and marry Prince Harry on May 19. Several speculations and rumors suggest that the star has chosen her best friend and author Lindsay Jill Roth to be her maid of honor.
While the royal family is expected to meet Roth and Markle's other best friends (hopefully in form of bridesmaids) at the wedding, Kate Middleton already has a connection with Markle's maid of honor. How? Well, way before Meghan Markle and Prince Harry began dating, the Duchess of Cambridge had reached out to the writer with a special letter.
As pointed out by royal blog Meghans Mirror, the incident dates back to 2015. Roth had penned down a book titled What Pretty Girls Are Made Of and decided to send a copy of it to the Duchess. Please by Roth's gesture, on behalf of Kate, the Palace sent the author a letter of thanks.
The letter, written by Miss Claudia Spens, Head of General Correspondence at the palace in November 2015, read: "The Duchess of Cambridge has asked me to thank you for your card of 19th October and for enclosing a copy of your book, What Pretty Girls Are Made Of. Her Royal Highness was very touched that you should think of her in this way, and sends you her best wishes."
The book traces the journey of an aspiring actress who decides to change career paths and lands a job as an assistant to world-famous makeup artist Sally Steele.
Roth shared the picture at the time with the caption, "Thank you #KateMiddleton! You are what #prettyis. Can't stop smiling! @kensingtonroyal #UK #london @simonschuster."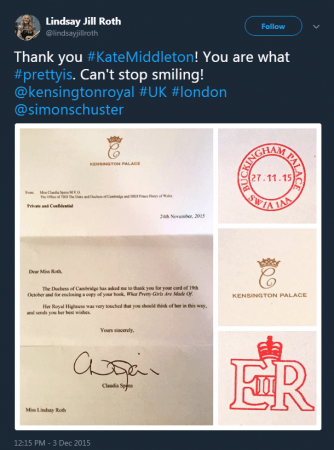 Meghan's bridal party hasn't been revealed but her close friend Priyanka Chopra has been spilling some beans about Meghan's side of the wedding. Chopra clarified she wasn't a part of the bridesmaid troop.
"I'm super excited about her and her big day. It's not just going to be life-changing for both of them, it's life-changing for the world that needs to see strong women as icons, and I think Meghan has the potential to be that," she told PEOPLE.
Apart from Chopra, Victoria Beckham also confirmed she is only part of the wedding as a guest. The former Spice Girls singer revealed on James Cordon's Late Late Show that she is not designing Meghan's wedding dress but she will be at the wedding.