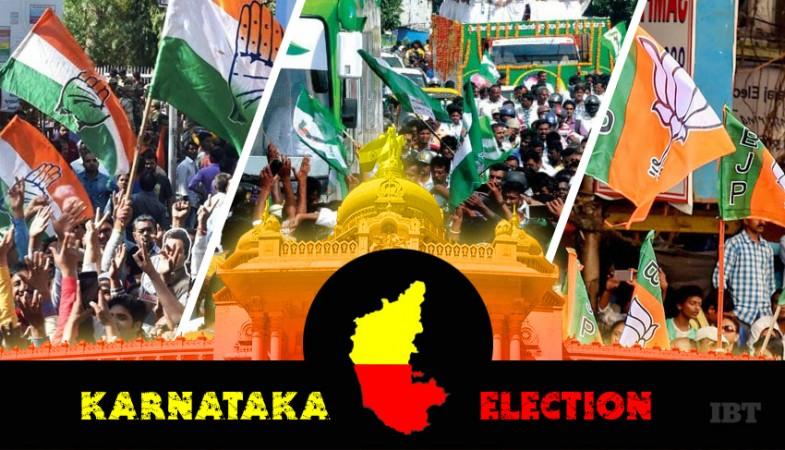 It looks like the drama in Karnataka is far from over. Prime Minister Narendra Modi had earlier said that the elections in the state would not result in a hung assembly, but that is clearly what's happening in Karnataka. After failing to gain a majority after counting of votes Tuesday, May 15, the two parties – Bharatiya Janata Party and the Congress – are set to stake claim to form the government Wednesday, May 16.
While Congress has said that it would form an unconditional alliance with the JD(S), even nominating HD Kumaraswamy as the chief minister, the BJP has requested an eight-day time to prove majority.
With this, the people of the state wonder how the saffron party plans to achieve this feat and many have also spoken about how it may lure other party members with important cabinet portfolios and even financial gains.
In fact, Amaregouda Linganagouda Patil Bayyapur, a Congress member has already alleged that the BJP is trying to poach him by promising him a ministry. "I got a call from the BJP leaders. They said come to us & we'll give a ministry to you. We'll make you a minister. But, I'm going to stay here. HD Kumaraswamy is our Chief Minister," he told ANI.
Congress leader DK Shivakumar, who in 2017 hit headlines for protecting Gujarat Congress MLAs from being poached, has also accused the BJP of "poaching MLAs."
"They (BJP) are poaching our MLAs, we know that. Every day there is a lot of pressure. But, it not so easy because two parties have the necessary numbers. People are watching this," he told ANI. So is he once again in-charge of safeguarding these MLAs and will they too be moved somewhere else? "Yes, definitely there is a plan. We have to safeguard our MLAs. We will let you know what is the plan."
4 MLAs missing
Meanwhile, it is also being said that four Congress MLAs have gone missing and Congress has deployed a helicopter to look for them. Additionally, two JD(S) MLAs, Raja Venkatappa Nayaka and Venkata Rao Nadagouda are also 'missing' from the JD(S) legislative party meet in Bengaluru, reported India Today
Ball in Vajubhai Vala's court
All eyes are now on Karnataka governor Vajubhai Vala, who will have to invite one of these parties to form the government in the state. Speaking of what Vala may decide, Congress has said that they are the ones that will end up with majority, thanks to an unconditional alliance with the JD(S).
In fact, they believe that the governor will have no other option. Congress leader Ghulam Nabi Azad even went on to say that the governor cannot take sides and must cut previous ties. "Governor cannot take sides. Can a person who is there to save constitution, destroy it too? The Governor has to cut all its previous associations, be it BJP or RSS," he added.
Azad's comments are in reference to Vala's equation with not just BJP and RSS, but also with the PM himself. The 79-year-old, who is known to be a hardcore RSS follower, was the finance minister of Gujarat and has presented 18 budgets in the state.
Not just that, Vala is also known to have vacated his assembly seat in Gujarat in so that Modi could contest his maiden election in 2001. When Modi became the PM in 2014, Vala was one of the contenders for the post of chief minister of Gujarat.
Well, neighboring state of Kerala is apparently happy about the drama in Karnataka. At least that's what the state tourism hinted on Twitter. "After the rough and tumble of the #KarnatakaVerdict, we invite all the MLAs to unwind at the safe and beautiful resorts of God's Own Country," Kerala Tourism tweeted. The tweet was later deleted, but managed to garner quite some attention with about 9,000 likes and over 5,000 retweets.