As the south Indian state of Karnataka goes to polls Saturday, May 12, politicians as well as other residents have been out and about since 7 am to cast their votes. The counting is scheduled for Tuesday, May 15, and Aam Aadmi Party's Karnataka convener Prithvi Reddy believes that opponent KJ George "is in for a shock" when the results are announced.
When International Business Times India spoke to Reddy and asked him about the polls and his chances of beating "king" George in the Sarvagnanagar constituency, he said that the people's decision cannot be predicted, but he hopes that the love and affection AAP received during the campaign translates to votes.
"In a democracy I have to respect people's opinions and it is hard to say how they'll vote but if all the support and the love we received during campaigning converts into votes, I think Mr George will be in for a shock," he told IBTimes India.
However, he did add that polls are not as fair as they should be as the parties are evidently breaking rules and about 50-100 workers of the BJP and the Congress have been stationed outside polling booths, which, in fact, should have just those people on polling duty.
"They are literally brainwashing voters just before they go in, which is bad for democracy," he added.
Reddy has been endorsed by former Supreme Court judge and ex-Lokayukta of Karnataka Santosh Hegde, who had urged residents of Sarvagnanagar constituency to support the leader.
"In the current scenario, it is better to choose a good candidate than a powerful party. When we say we are in a democracy, we should understand that we have a lot of strength. Choose the right person," the News Minute quoted Hegde as saying.
"Please don't think my one vote cannot change anything. He (Prithvi Reddy) is an honest person, although he is in a wrong party. However, still vote for him. If you don't want to vote for him, choose the NOTA (None Of The Above) option, but do vote."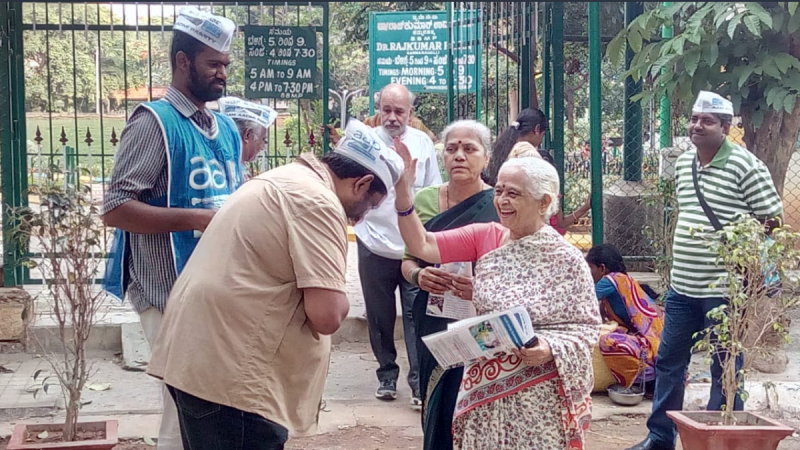 Reddy is up against George, who is known to have quite a strong number of followers. He has not lost an election in the constituency in 10 years and was elected despite being accused of corruption, land-grabbing, and abetment to suicide of a senior police officer.
So how does Reddy expect to win against 71-year-old George, who is Bengaluru's development and town planning minister? "I'm fighting to win," he earlier told HuffPost India. "I know it's an uphill task but we are selling a product not offered before," he added.
While George may have a solid fan-following, Reddy isn't an unknown name either. The 48-year-old mechanical engineer with a management degree is known to have worked in Europe for a few years and returned to India to join his family business.
He is one of the founders of a citizen's movement against corruption in Karnataka and has worked closely with Anna Hazare and Arvind Kejriwal.