Karnataka Assembly Elections 2018 polling was concluded on Saturday, May 12, with a record 72 percent voter turnout. Now, it's time for the polling results as voters across the state eagerly wait to see which party comes out as a winner.
The intense fight between Congress, BJP and JD(S) to gain power in the southern state of India is entirely dependent on the number of seats each participating candidate will win in 222 constituencies.
While BJP and Congress leaders are confident of victory in Karnataka Assembly elections, the HD Deve Gowda-led JD(S) aims to play a crucial role of "kingmaker," as exit polls have predicted. The record-setting voter turnout was higher than the 71.90 percent recorded 40 years ago in 1978.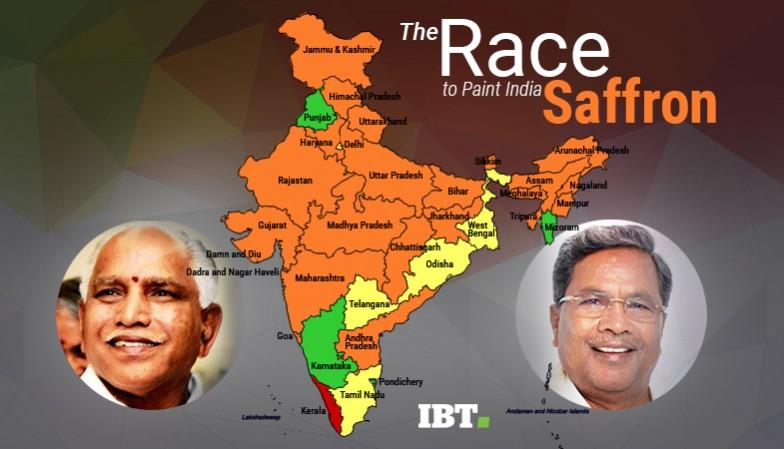 May 15 is going to be a big day for all political parties as well as voters alike. With the power of the internet, the results will be available to everyone as and when announced. Here are the answers to all the questions you might have about the election results day plan.
When will counting of votes begin?
The process will begin at 8 am on Tuesday, May 15, across 222 constituencies out of total 224 constituencies. The postal ballots from the officers who were on election duty will be counted first, followed by EVM votes.
When will the Karnataka Assembly Election results be announced?
The Karnataka Assembly Election results will be announced depending on when the counting of votes concludes. Ideally, the final results should be announced by noon on Tuesday, but it will be clear which candidate is winning when 70-80 percent votes have been counted by around 10-11 am.
Where to check election results?
International Business Times, India, will be running a live coverage of Karnataka Assembly Election results 2018, where you can get real-time updates on who is winning or losing. Followed by that, you can also read our coverage on important post-result changes depending on which party comes to power in Karnataka.
Why are 2 constituencies left out?
Elections in two constituencies – Jayanagar and Rajrajeshwari Nagar – were countermanded and polling for these will be held on May 28. In Jayanagar, the death of BJP candidate and ruling MLA B.N.Vijaykumar caused the delay. In Rajrajeshwari Nagar, about 10,000 voter cards were recovered from a flat, which has led to the re-schedule.
Will BJP win or Congress?
Ahead of the final results, exit polls traditionally predict the winning party. There have been several exit polls, and six out of eight major ones claim BJP would get the maximum number of seats in the new assembly.
There are 112 seats required to form a single-party assembly, but seven polls have predicted a hung assembly where neither BJP nor Congress will hit the threshold. In this case, JD(S) will be the kingmaker.
Are exit polls reliable?
Yes and no. Leaders of BJP and Congress have shared their confidence in winning maximum seats in the Karnataka Assembly Elections 2018. Here's what they have said:
"Exit opinion polls are entertainment for the next 2 days. Relying on poll of polls is like a person who can't swim crossing a river on foot relying on a statistician who told him the average depth of the river is 4 feet. Please note average of 6+4+2 is 4. At 6 feet you drown" – Karnataka Chief Minister Siddaramaiah (Congress).
"With the help of everyone, we are to win 125-130 seats. The Congress will not cross 70 seats and the JD(S) will not cross 24-25. Until now, never have my calculations gone wrong" – BS Yeddyurappa (BJP).
"I am not prepared to accept or reject anything, let's wait for 15th May (counting of votes), we will get to know the reality" - Deve Gowda (JDS).
All these leaders have expressed fair share of cynicism towards exit polls. It's a good thing we won't have to wait too long to find out.