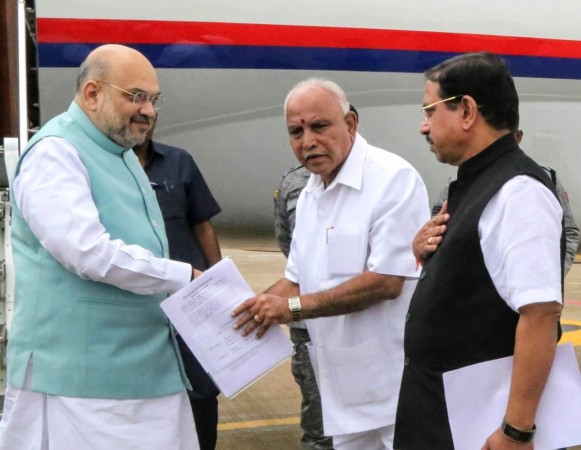 Karnataka Chief Minister BS Yediyurappa, after running the government alone for over 23 days, expanded his cabinet and inducted 17 ministers on Tuesday, August 20.
The ministers who were sworn include former Chief Minister Jagadish Shettar, KS Eshwarappa, R Ashoka, Independent MLA H Nagesh, Laxman Sangappa Savadi, MLC Kota Srinivas Poojari, Govind M Karajol, Ashwath Narayan CN, B Sreeramulu, S Suresh Kumar and V Somanna.
CT Ravi, Basavaraj Bommai, JC Madhu Swamy, CC Patil, Prabhu Chauhan and Shashikala Jolle Annasaheb - who is the only woman Cabinet Minister - were also inducted.
The portfolios to the new ministers are expected to be allotted by Tuesday evening.
Yediyurappa received a nod to expand his cabinet from the Bharatiya Janata Party president Amit Shah on Saturday. The CM sent a list of 17 ministers to the governor, requesting him to administer the oath.
"BJP legislative party meeting will be held on Tuesday at 10 am at the Conference Hall, Vidhana Soudha. And the cabinet expansion will take place on the same day post noon," Yediyurappa had tweeted.
He further said that almost all the new ministers will be sworn in by noon on Tuesday.
The CM had assumed office on July 26 and proved his government's majority on the on July 29. According to reports, the delay in inducting ministers was because the party was unable to finalise names.
The opposition Congress and Janata Dal (Secular) had targeted Yediyurappa over the delay. "Is this what the BJP means by 'minimum government'? A cabinet without cabinet ministers? Will @BSYBJP wake up and stop our state from being mocked across the country?" the Congress tweeted on Saturday.
Live Updates
2019-08-2013:21 (IST)
Nippani MLA Shashikala Jolle is the only woman to be sworn in
Shashikala Annasaheb Jolle, who hails from the Lingayat community, is an Indian social worker, politician and member of the Legislative Assembly for the Nippani constituency.
2019-08-2012:48 (IST)
Supporters of senior BJP leader GH Thippareddy protest in Chitradurga
2019-08-2011:27 (IST)
Balancing caste equation a major challenge
It was being speculated earlier that balancing the caste equation in the cabinet will be a major challenge for the BJP.
The party would have to accommodate Lingayat MLAs as well as other prominent leaders belonging to the Vokkaliga, Brahmin, Dalit, Scheduled Tribe and other backward communities.
2019-08-2011:24 (IST)
44 percent representation for the Lingayat community in cabinet
The party has included eight people from the dominant Lingayat community, including Yediyurappa, into the cabinet, which amounts to a 44 percent representation for the community.
2019-08-2011:22 (IST)
Jagadish Shettar takes oath as Karnataka cabinet minister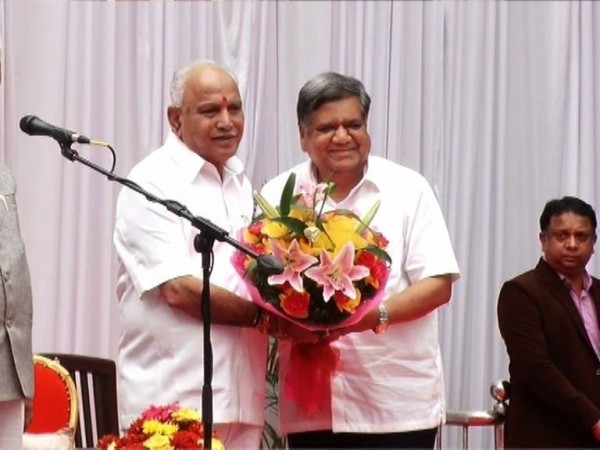 2019-08-2011:21 (IST)
Suresh Kumar takes oath as Karnataka cabinet minister
2019-08-2011:01 (IST)
B Sriramulu takes oath as Karnataka cabinet minister
2019-08-2010:55 (IST)
Congress, JD(S) rebel MLAs can be included in ministry upon re-election in bypolls
According to a PTI report, if the rebel MLAs get re-elected, the BJP plans to make them Ministers, as promised. Certain ministerial positions have been left vacant due to this.
Former Speaker Ramesh Kumar had disqualified 17 Congress-JD(S) rebel MLAs under the anti-defection law. They have challenged the disqualification in the Supreme Court. Only on getting any relief from SC can the disqualified MLA contest the bypolls.
2019-08-2010:48 (IST)
KS Eshwarappa, takes oath as Karnataka cabinet minister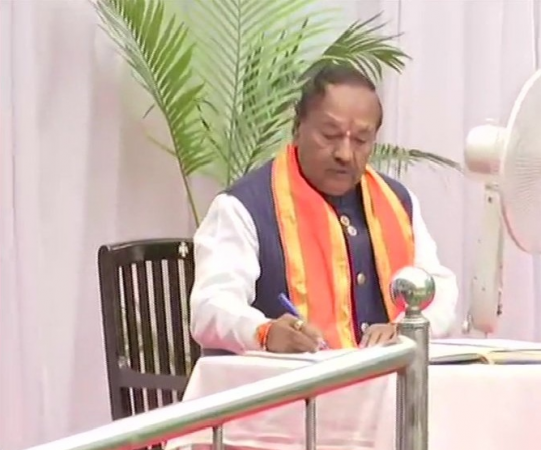 2019-08-2010:43 (IST)
Traffic restrictions imposed around Raj Bhavan ahead of oath-taking ceremony
"Motorists are requested to travel along the specified routes due to the traffic congestion during the valid ministers' oath-taking program at the Rajya Sabha on 20-08-2019," Bengaluru Traffic Police tweeted.
2019-08-2010:42 (IST)
CN Ashwath Narayan & Govind M Karjol take oath as Karnataka cabinet ministers
2019-08-2010:20 (IST)
Time for change: Tejasvi Surya
Tejasvi Surya took to Twitter to congratulate the newly inducted ministers in the cabinet.
I congratulate all newly inducted Ministers in Sri @BSYBJP cabinet. Karnataka will open new chapter of development with their dynamism & commitment.

For long time the state has suffered due to bad governance. Time for change!

Let's all work together to build #SuvarnaKarnataka.

— Tejasvi Surya (@Tejasvi_Surya) August 20, 2019
2019-08-2009:45 (IST)
Independent MLA H Nagesh to be included in BSY cabinet
Independent MLA H Nagesh will be administered oath at 10.30 am on Tuesday along with 16 others.
Nagesh resigned from the former Congress JD(S) coalition government on July 8.
2019-08-2009:32 (IST)
Yediyurappa to add 17 new ministers in cabinet on Tuesday
Karnataka Chief Minister BS Yediyurappa proposes names of 17 MLAs to Governor for induction as Cabinet Ministers.