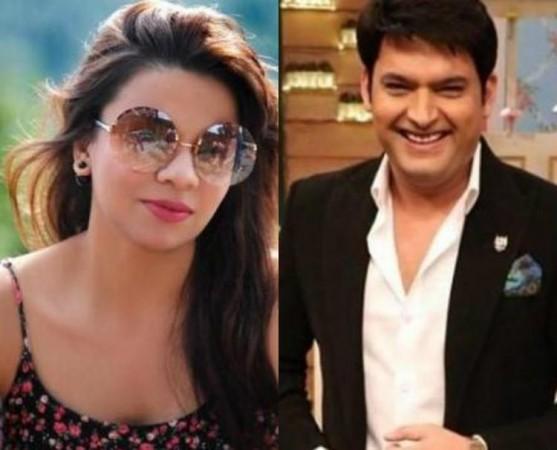 Kapil Sharma has been in the news ever since he went on an abusive Twitter rant against journalist Vickey Lalwani a couple of weeks ago. He later filed a police complaint against the journalist and his former managers Preeti Simoes and Neeti Simoes accusing them of trying to extort Rs 25 lakh from him and tarnishing his image.
Kapil recorded his statement Monday, April 9, at Oshiwara police station in Mumbai. The comedian has stated that Preeti Simoes leaked his personal information to entertainment portal Spotboye which continued to carry negative stories about him which eventually affected his work.
"In September 2017, one of my close friends Gurjot met Preeti in a cafe where they talked about me and my work. Gurjot told me that in order to take revenge from me, Preeti has leaked the info to the entertainment portal. When my friend asked her not to do such things, she demanded Rs 25 lakh for it. The portal continued to carry negative stories about me and it affected my work," Kapil said in his complaint (written in Marathi) published by Zee News.
Preeti, on the other hand, has shot back at Kapil alleging that there is a mechanism that is working to divert the attention from the recent Twitter rant.
"Honestly, no one is taking this complaint seriously. Because we understand that what really gets traction is a celebrity lodging a 'case' against his alleged ex-girlfriend. Obviously, it was a smart move for them. I am just scared that if this gets into the legal zone, how 'poor' Kapil is ever going to prove all of this because, I, for one know that he is not in his right frame of mind," Preeti told Pinkvilla.
Kapil, in his complaint, has said that when he started his production house called K9 productions, he hired Preeti Simoes to manage everything from planning shooting schedules to guest coordination to handling all his professional deals.
"And for that, I paid her Rs 2 lakh a month. Soon, I hired her sister Neeti as well and as the show became popular and the channel benefitted from it, I raised their salaries," Kapil said.
But due to their lack of coordination, Kapil said that he missed out on many opportunities and several celebs were left miffed with him which hampered his public image. He also accused Preeti and Neeti of creating misunderstanding between him and fellow actors.
"And surprisingly, all of this was told to me by Anushree. I realized that people I trusted the most were trying to pull me down and tarnish my image and my teammates were scared to tell me fearing a job loss," Kapil said.
In 2013, Kapil Sharma had hired Anushree as a talent manager for Comedy Nights With Kapil but was fired in 2016 after the Simoes sisters told the comedian that Anushree charges money from people for coming on the show. But later, when Kapil met Anushree at a programme, she told him that it was Simoes sisters who were actually doing it.
"She (Anushree) told me that they (Simoes sisters) charge money from the people who want to sit in the audience and the rates vary depending on which row. People who sit in the front row are charged more," Kapil said.
He further added, "In 2016, I warned them to improve their work. However, soon after that, we had an argument and the Simoes sisters quit the job. But they came back to me after three days saying let bygones be bygones and we must work together. Again I found out that they are trying to hamper my work and after a heated exchange, they left the show in March 2017."
Responding to the allegations of charging money from the audience, Preeti said, "There is media evidence of me being the first one from my team who asked people to not buy tickets, Kapil Sharma fan club knows that, they used to come watch the show for free. Unfortunately, I hoped that the allegations were up to my standard than theirs. I am not going to sit and sell tickets for Rs 30,000. Also, I am wondering who will buy a 30,000 ticket to watch the show? I don't think this was a well-thought allegation."
Kapil also said that soon after the Simoes sisters quit the show, the entertainment portal and the journalist in question started publishing negative and false stories about him.
When Kapil's friend Gurjot met Preeti in September 2017, the friend told the comedian that his former manager leaked all his personal information to the entertainment portal in order to take revenge. Kapil said when his friend asked Preeti to stop the information leaks, she demanded Rs 25 lakh for it.
"In February 2018, I confronted Preeti at her house and requested her to end all of this. She replied saying, You are nothing without me in the industry and I will not leave you. I will swipe you away from the industry and if you want to end all of this then pay me Rs 25 lakh. I left her house after that," the comedian stated in his complaint.
On April 6, Kapil tried to contact Preeti as the entertainment portal continued to publish negative stories about him but she didn't respond. The comedian then took Vickey Lalwani's number from Neeti and the rest is history.
"The trio (Vickey, Preeti and Neeti) demanded Rs 25 lakh from me and this left me with no choice but to file a police complaint," Kapil said in his complaint.
But Preeti is in no mood to buy the plot.
"I don't think it is Kapil because he knows what he has spoken with all of us. I am sorry but this very flop Bollywood plot of an ex-girlfriend being jealous and trying to destroy her ex because he is with some other woman is very old and outdated. How does this even happen in real life especially when I am not even in your life for a year? How do you extend to destroy it unless I have superpowers to do it," she said.
She also added that since Kapil is not doing well in his career than earlier, he doesn't know whom to blame and made a statement saying, "Since you never remembered us during your success, please forget us during your failure."