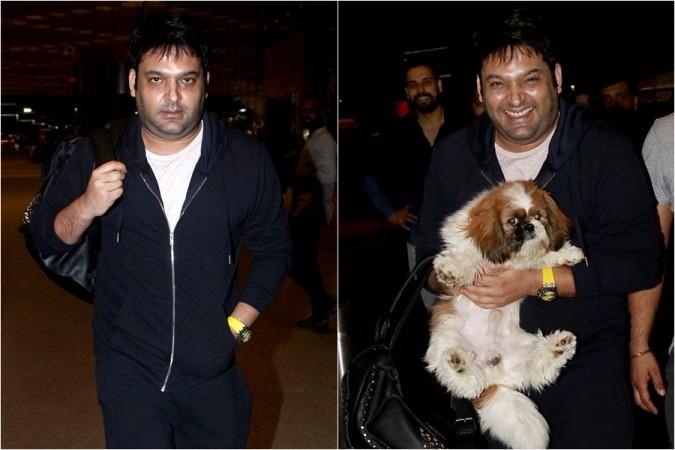 Television show host Kapil Sharma, who has been battling depression for the past few months, was recently spotted in public after a very long time. Caught by the paparazzi at the Chhatrapati Shivaji International airport, Kapil's physical transformation has baffled many.
The ace comedian, who has reportedly been on heavy medication and taking as many as 23 pills a day, was almost unrecognisable, having gained a few pounds. Paparazzi started clicking pictures as soon they spotted him entering the Mumbai airport. Kapil Sharma happily obliged and posed for the shutterbugs along with his pet dog.
While Kapil Sharma's rare sight has thrilled his fans, it has also left quite a few worried about his health. Two weeks ago, the comedian tweeted for the first time after a gap of two months, responding to a fan, and saying that he had gained weight and will make a comeback soon once he is back in shape.
Earlier, Kapil Sharma's friend and colleague Chandan Prabhakar also confirmed the reports of the comedian's deteriorating health.
After his ugly spat with journalist Vickey Lalwani, Kapil Sharma's ex-girlfriend and former manager Preeti Simoes had expressed her surprise over the comedian's outrage, saying that he was not in good state of mind and needed help. But one of the comedian's closest friends thinks that people are trying to prove that Kapil is mentally unstable for some reasons.
"Why are the people who made so much name fame and money from Kapil's show trying to prove he is unbalanced? Kapil is depressed, yes. He admits. He also admits to having a drinking problem. But let's not get into who are the people who have got him into this condition," the friend was quoted as saying by Bollywood Hungama.
Over the past one year, Kapil's career nosedived following his mid-air brawl with his friend Sunil Grover who became popular as Gutthi and Dr. Mashoor Gulati on the shows Comedy Nights With Kapil and The Kapil Sharma Show. Both shows went off-air after reaching high TRP points.
"The reality right now is that I have worked very hard and I love what I do. I just need some time off and I promise you that I will be entertaining you again, as that is what I thrive on," Kapil earlier told IANS.
@KapilSharmaK9 spotted at airport after long gap. #MumbaiAirport #KapilSharma pic.twitter.com/vPuYs5xClL

— Kapil Universe (@KapilUniverse) June 20, 2018
He is totally well and fit for new comeback.....@KapilSharmaK9 waiting for you pic.twitter.com/RnKpPd4XA0 — KAPILIAN satyam |ks| ❤ (@SATYAM_K9) June 20, 2018