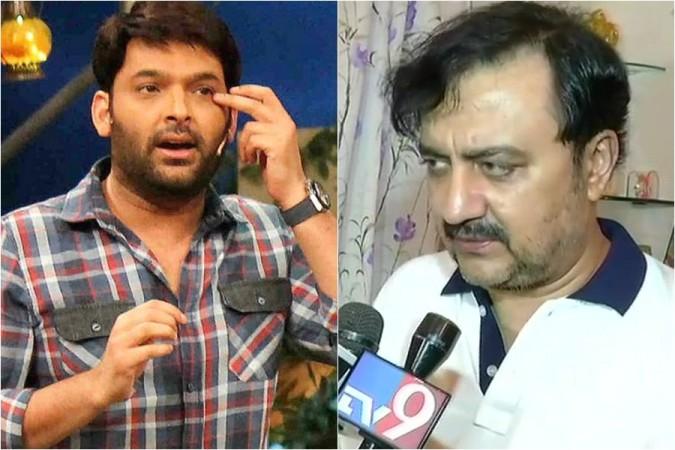 The spat between Kapil Sharma and journalist Vickey Lalwani is all over the social media and is turning ugly day by day. While both parties have lodged police complaints against each other, the SpotboyE editor has now tweeted to Mumbai Police against the Family Time With Kapil Sharma host for publicly sharing his phone number on Twitter.
Lalwani, in his tweet, has claimed that Kapil Sharma fans have been calling and harassing him over the phone. Mumbai Police, in its reply, suggested him approach the nearest police station.
Hello @MumbaiPolice,@KapilSharmaK9 had put out my number on his twitter handle. This has made his fans to call and harass me. Seeking suitable measures from you.

— Vickey Lalwani (@iamvickeyleaks) April 10, 2018
The comedian, a couple of days ago, had shared a copy of his complaint on Twitter which displayed Lalwani's phone number. In his complaint, Sharma accused Lalwani of publishing defamatory articles against him on his website with a malicious intent.
Sources claimed that Lalwani used to manage digital content for Sharma in the past. However, the comedian had stopped paying him reportedly due to lack of coordination. Later, Lalwani allegedly used his entertainment website SpotboyE, which he launched a couple of years ago, to target the comedian.
Besides Lalwani, the comedian also accused his former managers Neeti Simoes and Preeti Simoes of extorting Rs 25 lakh from him. He stated that the former managers were privy to Sharma's personal associations and his day to day works. Lalwani flogged this information in public domain which caused mental distress to Kapil, claimed comedian's lawyer, Tanveer Nizam.
Sharma had hired the Simoes to manage and coordinate some of the aspects of his comedy shows in the year 2016 and early 2017. However, the comedian terminated his business relationship with the duo after he lost out on several commitments because of they didn't represent him well, the complaint said.
Meanwhile, Lalwani, on Saturday (April 7) has filed a non-cognisable complaint against Sharma at Powai police station in Mumbai for using abusive language and threatening him over the phone.
Sharma posted a series of tweets Friday that was objectionable in nature and later deleted them with an explanation that his Twitter account had been hacked.
The comedian revealed Saturday that his Twitter account was not hacked but his team deleted the posts. He stood by his earlier comments.
The journalist had then leaked an audio clip which he claimed was a recording of his telephonic conversation with Kapil.
Amid the controversy, Kapil Sharma recorded his statement Monday against Lalwani at Oshiwara police station in Mumbai.
The comedian's new show Family Time With Kapil Sharma, which went on air a couple of weeks ago, has reportedly been suspended by Sony TV for the whole of April due to the frequent cancellation of shoots and the host's ill health.