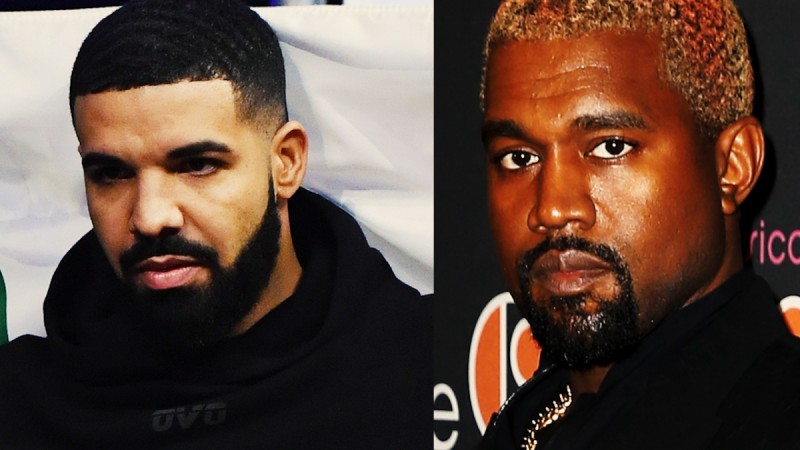 The Kanye West-Drake feud has gone on for the better part of a year now. Apart from the Kanye-Trump outrage, there was and continues to be quite of bit of anger pouring back and forth between 'Ye and Drizzy.
Only today, Kanye seems to have re-ignited the beef that everyone thought was finally put to rest. Kanye went on Twitter to rant about Drake and said that if anything happens to his family, Drake would be the prime suspect.
Kanye West demanded an apology from Drake for apparently being shady earlier today. This was because Drizzy wanted to get clearance from Kanye to sample, 2009's "Say What's Real". In the tweet storm that followed, Kanye put forward a number of conditions.
Kanye wants Drake to apologize for his comments on his Yeezys. Then apologise to Kanye for going behind his back and getting close with Kris Jenner. Then admit to allegations that Drake had Pusha T attacked at his Toronto show, buying front row seats and having drinks splashed at him. Kanye also wanted Drake to acknowledge all the evidence that he was not responsible for leaking information about his secret son.
Apart from all of this, Kanye tweeted that Drake needs to address and apologise sending him purple devil emojis at a difficult time in his life. "It's all love bro bro but don't play with me," he tweeted. "I need my apologies now. No tough talk either." Kanye West wants him to directly apologise, "Not through scooter either Not through Travis".
Drake seemed to have relented. He called Ye and everything was seemingly fixed, but even then, Kanye tweeted that he did not clear the track.
Soon after, Drake posted an Instagram story that showed a few laughing emojis.
This is when Kanye went on a major rant. He claims that Drake called to threaten him. "Drake called trying to threatened me" he wrote. "So drake if anything happens to me or anyone from my family you are the first suspect So cut the tough talk," he wrote. Kanye then went on to speak of all the problems in Hip Hop. "That's why black people never get ahead and and we stay controlled," he tweeted. "Cause we rather act cool than sit and have a convo..."
"We both too high profile for you to actually do something to me," Ye tweeted, knowing that Drake's threats are, in real life, empty. Kanye does want to talk, it seems. "Drake I'm not going to physically fight you like it's MTV boxing."
It all started earlier this year with Drake saying that Kanye invited him over to work on "Lift Yourself". Drake then went on to explain that West hid from him details about an album release, specifically the date. He claimed that this came after West demanded that he be completely transparent about everything. According to Drake's version of what happened, Kanye knew exactly when the "Scorpion" album was going to be released.
"I'm in Wyoming. I play him March 14. I send him a picture of my son. I tell him I'm having trouble with my son's mother," said Drake when he appeared on "The Shop", hosted by LeBron James and Maverick Carter.
This was a jab at Kanye who he back-handedly blamed for giving out information about his son to Pusha-T (with whom Drake had an ongoing feud). Drake then went on to say that Kanye released his own G.O.O.D. album around the same time as Drake's Scorpion, on purpose. "I wake up, and all these dates are out. One by one by one. All of them around June 15."
Pusha-T then restarted his beef with Drake on a track titled, "Infrared" once more bringing up allegations that Drake uses ghostwriters. Drake put out "Duppy Freestyle," drawing in Kanye West into the beef with Pusha-T.
However, after Pusha-T put out "The Story of Adidon," which contains information about Drake's son, the Canadian rapper, saw that it was time to stop. Pusha-T denied Kanye West's involvement in the track, saying that he came to know about Drake's son, someone known to Noah "40" Shebib.
Drake's "Behind Barz" freestyle from Scorpion was believed to be shots at Ye.
In a Twitter rant in September, Kanye seemed to put the whole thing to rest. He apologised to Drake, even taking responsibility for any "negative energy" and clarified his role in the Pusha-T beef.
Everything seemed to have been settled when Kanye reignited the whole beef this morning.