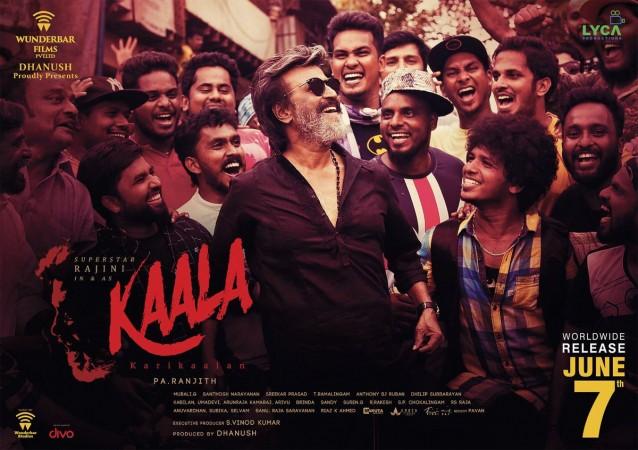 Superstar Rajinikanth's much-talked-about movie Kaala has received mixed reviews and ratings from the Telugu critics, who are apparently not happy with Pa Ranjith's direction and script.
Kaala revolves around the story of a Tamil immigrant (Rajinikanth), who is a gangster in Dharavi Mumbai. He decides to fight for the people of the slum area when corporate companies try to encroach their land. How Kaala fights against political leader Hari Dada (Nana Patekar) forms the crux of the movie.
The Telugu critics say that Pa Ranjith has chosen a routine story, but he has made it relevant and interesting by including some socio-political issues. The story moves at a snail's pace in the first half of the film and it gains momentum just before the interval. But the director fails to execute the second half as it is dragging and predictable in parts. However, the climax is good and it compensates for everything.
Rajinikanth has delivered wonderful performance and his chemistry with Huma Qureshi and Easwari Rao and confrontation with Nana Patekar are the highlights of Kaala. The movie has rich production values and background scrore, picturisation, action, art direction and dialogues are the attractions on the technical front, add the Telugu critics.
Read: Kaala review | Tamil audience's response | Telugu viewers' verdict
Kaala has been rated an average of 2.58 out of 5 stars. We bring you some Telugu critics' verdicts and ratings for the film. Continue to see them in Kaala movie review roundup:
India Glitz Rating: 2.75
Kaala comes with a time-tested formula. Almost all the tropes, barring its politically-correct symbolism, are familiar and done-to-death ideas.
Kaala is a serious revolutionary drama which works in parts. Rajini and Nana Patekar lead from the front and make things interesting for the audience whenever they appear on the screen. But the film is a bit slow and takes its own time to enter the main plot. The film will be liked by only a section who like mature and serious dramas but the others need to go in well prepared to what's coming in their way. If you are okay with this, then Rajini will make sure that the film ends up on a passable note.
Kaala is a boring and tiresome wannabe message based entertainer, that again ends neither as a Rajni movie nor as a Ranjith movie, and is sure to disappoint the Superstar's fans yet again.
Gulte Rating: 2.5
Kaala appeals in parts because of its well-written scenes and characters but fails on a whole. You may watch it for Rajani and some mass moments, but make sure to keep your expectations in check.
Telugu360 Rating: 2.75
Kaala presents vintage Rajinikanth and his elements in a stylized manner. With its solid casting, brilliant technical values 'Kaala' may appeal to fans and masses, though a routine theme. The second half couldn't match the first one, but on a whole, it is a satisfactory watch if you don't mind slow-paced narration at times. At Box-office, Tamil version may work better than Telugu one.
Tollywood Rating: 2.5
Kaala is an average movie. For Rajinikanth movie, everyone wants to see him in a certain way but Kaala disappointed them. The slow narration and seriousness of the movie spoil the tempo of movie. Kaala will be liked by them who are hardcore fans of Rajinikanth.