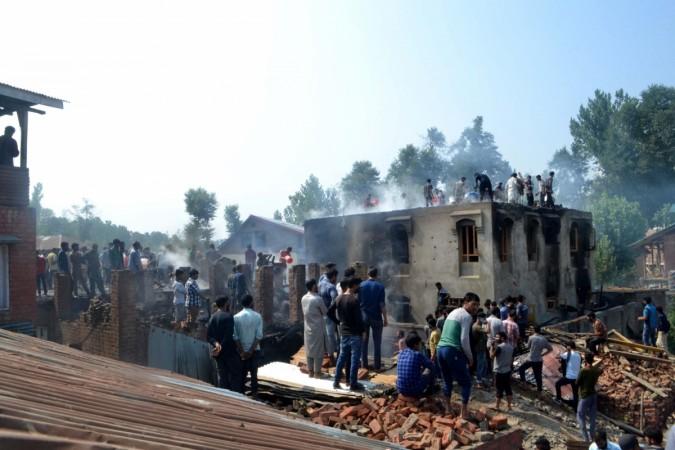 Three militants, who tortured and murdered a trainee police constable on Saturday, July 21, were killed on Sunday in a gunfight with security forces in Jammu and Kashmir's Kulgam district.
According to a police statement, this was a significant breakthrough, with concerted efforts of the security forces which resulted in the elimination of the prime accused involved in Saturday's abduction and killing of Constable Muhammad Saleem.
Trainee constable Muhammad Saleem Shah had come home on leave from Kathua Police Training School. He was abducted from his home in Matulhama village of the district on Friday evening. Saleem Shah's bullet-riddled body was found on Saturday in Qaimoh area of the same district.
The security forces launched searches in Redwani area in Kulgam early in the morning after getting credible inputs about the presence of the terrorists in a cluster of houses. According to the statement, it was militants who initiated the gunfight.
As the security forces advanced, the hidden terrorists fired, resulting in a brief encounter in which the three terrorists were killed.
No collateral damage has been reported in the encounter. Those involved in the operation included the police, Army and Central Reserve Police Force.
The dead militants were identified as Muawiya, a Pakistani, Suhail Ahmad Dar of Redwani Balaa and Mudassar alias Rahaan of Katarsoo. As per police records, the slain terrorists were affiliated with the outlawed Lashkar-e-Taiba (LeT) and Hizbul Mujahideen.
Mauwiya's involvement was established in a number of civilian killings. Suhail, who was working as a labourer earlier after he had dropped out from school, had later joined a terror outfit.
The Kashmir police are ascertaining the complicity of the other co-conspirators who assisted in the commission of the gruesome crime leading to the death of Constable Saleem.
"Some arms and ammunition including but not limited to 2 AK 47 rifles and a carbine have also been recovered from the site of encounter," the statement said.